Mike Shumaker's Hollywood connection isn't exactly direct, but the Brownsburg entrepreneur intends to milk it for all it's worth.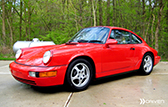 Mike Shumaker of Brownsburg spiffed up this Porsche for actor Matt Damon. (Photo Courtesy Driven Auto Detail)
Shumaker, owner of Driven Auto Detail, cleaned the 1992 Porsche Carrera4 Matt Damon drives throughout the upcoming movie "The Informant!"
Shumaker landed the job last fall from the owner of the car, one Darrell Staggs of Mooresville. Shumaker shined up the classic red roadster just before Staggs shipped it up to Decatur, Ill., for the filming.
"The Informant!" is based on the true story of a mentally ill Archer-Daniels Midland executive who helped the FBI rein in a major price-fixing scheme.
The movie's release is scheduled for Sept. 18, and Shumaker plans to link to the trailer—which gives a glimpse of the Porsche—on his new Web site.
Shumaker paid a visit to the almost-famous car upon its return to Mooresville. He said Damon autographed the driver's side door jamb, but the owner didn't want to buff out that particular blemish.
Please enable JavaScript to view this content.