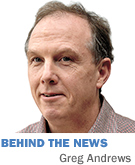 Bernard "Bud" Malone grew up poor in New Jersey in the 1930s, raised by a single mother. He worked full time as a teenager to make ends meet, completing high school at night and ultimately receiving a law degree from the University of Notre Dame.

"At a very young age, Bud Malone came to a precocious realization that the quality of one's residence, or standard of living, can directly correlate to said resident's self confidence, and in turn, their quality of life in general," his 2015 obit in the Dallas Morning News read. "And so he set about into a life long dream of dramatically raising the standard of low-income housing, and inner-city projects."

Along his path to becoming a mortgage industry executive in Texas, Malone became fast friends with another accomplished mortgage industry executive, Michael Petrie, CEO of Carmel-based Merchants Bancorp and president of its commercial mortgage subsidiary, P/R Mortgage, according to a lawsuit filed this month by Malone's former company, Dallas-based Mortgages USA.

The case casts the 63-year-old Petrie as a villain, detailing what it calls "a deliberate and vindictive campaign by Petrie and Merchants to drive Mortgages USA out of business through unlawful conduct," following Malone's death in February 2015 at age 80.

It's certainly an unusual allegation against Petrie, one of Indiana's most successful bankers. He and Merchants Vice Chairman Randall Rogers, both alums of Indianapolis' old Merchants National Bank in Indianapolis, started P/R Mortgage in 1990 and built it into an apartment-lending powerhouse.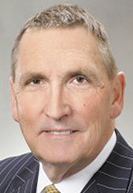 Petrie
Years later, after the original Merchants was acquired and P/R bought two banks, the pair went back and purchased the Merchants name and logos—turning their business into the "new" Merchants. It's enjoyed considerable success, boosting its share of deposits in the Indianapolis area from 0.2 percent to 4 percent since 2009, according to Federal Deposit Insurance Corp. data.

The new suit brought by Mortgages USA asserts that Petrie "became irate" and turned against the Dallas company in late 2015 after it sold a $17 million apartment loan to another buyer instead of P/R. Mortgages USA contends it rejected P/R's offer because of its "inferior-to-market terms."

From then on, the suit says, Merchants began withholding other payments it was required to make to Mortgages USA under a separate business relationship—an amount eventually totaling $1.5 million—which left Mortgages USA without the financial wherewithal to pay off $3.8 million in lines of credit from Merchants when they came due early last year. The suit says MUSA sought to extend the credit lines but Merchants refused.

The financial squeeze has caused a "severe disruption" to Mortgages USA's business and "if Petrie, Merchants, and P/R Mortgage ultimately succeed in forcing MUSA out of business, MUSA will suffer the loss of the entire value of MUSA's business, including all of MUSA's future profits," according to the suit, which seeks unspecified compensatory and punitive damages.

That's just one side's account, of course. As is often the case in legal skirmishes, there is more to this story—as a lawsuit that Merchants filed last year in Texas makes clear.

That case—filed against Mortgages USA; its owner, Jeff Morgan; and Malone's widow, Mary Ellen, executor of his estate—asserts Merchants is the party that's been treated unfairly. It alleges Mortgages USA is on the hook for repaying a $1.6 million line of credit that Merchants extended to Malone personally but that ultimately went toward propping up Mortgages USA as it weathered "serious financial difficulties."

Malone, a longtime customer of Merchants, received the credit line in 2011 by representing that he had a net worth of more than $12 million. In reality, documents Malone provided to support the loan were false, and his estate lacks the means to pay, according to the suit.

The suit further asserts that, "while on his death bed, Malone assigned or transferred his 1/2 interest in MUSA for no or inadequate consideration that should have been part of Malone's estate"—and thus available to pay Merchants and other creditors. The deal upped Morgan's ownership from half to 100 percent.

Petrie isn't talking publicly about the odyssey. A voice mail left for him at Merchants' headquarters was forwarded to his attorney, John Waller, a partner with the Indianapolis law firm Wooden McLaughlin.

"We dispute the allegations" in the suit brought by Mortgages USA, Waller said. "We intend to defend the case. We otherwise do not comment on pending litigation."•