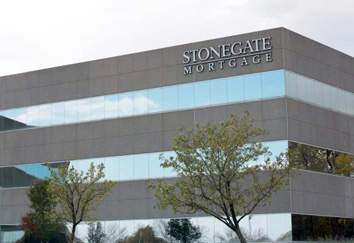 Michigan-based Home Point Financial Corp. announced Friday that it has agreed to buy Indianapolis-based Stonegate Mortgage Corp. for $211 million.
Home Point, which is privately held, said it would pay Stonegate shareholders $8 per share, a 61 percent premium over Stonegate's 90-day average price as of Thursday and a 34 percent premium over its Thursday closing price.
Stonegate shares were up 30 percent to $7.75 a share in trading Friday morning.
Both Stonegate and Home Point are in the mortgage origination and servicing business, and HomePoint said the deal would position it as a top-25 player in the industry.
"We are very excited about the opportunity to work together with the Stonegate Mortgage team to accelerate the build out of Home Point Financial," HomePoint CEO Willie Newman said in prepared remarks. "The combined business will have full national coverage across all channels of mortgage origination, as well as vertical integration across the mortgage value chain."
The deal is expected to close at the end of the second quarter.
It will mark the end of Stonegate's stint as a public company, which has largely disappointed investors. Shares hovered above $18 each after the company's initial public offering in late 2013, but they've been on a downward slide since then, hitting a low of $3.28 a share last summer.
Stonegate employed 893 employees as of Sept. 30, 2016, according to federal securities filings, down about 33 percent from the 1,324 employees it had on its payroll just one year earlier.
It's unclear how many of those employees are in Indianapolis and whether further reductions would be in store after the acquisition closes.
Officials from both companies didn't immediately return requests for comment on the matter Friday morning.
Stonegate was founded in 2005 by Jim Cutillo, who took the firm public in November 2013. He earned a reputation as a blunt, hard-driving CEO, as a 2014 IBJ profile points out, and he also had a few run-ins with controversy.
The company struggled to meet or beat earnings estimates under Cutillo, and in September 2015 he abruptly resigned. The surprise departure prompted analyst speculation that the company might be preparing to put itself up for sale.
In April 2016, Stonegate promoted James V. Smith, its president and chief operating officer, to the CEO position.
The company slashed expenses in the wake of Cutillo's departure, from about $87 million in the quarter ended September 2015, to about $45 million in the same period a year later. The stock started to see new life after its midsummer low in 2016 and climbed back to $6 a share before the deal with High Point was announced.
In the press release announcing the deal, Stonegate said its board of directors unanimously approved it following a "comprehensive review of the transaction and strategic alternatives."
Stonegate's stock price has been above $8 a share for roughly 60 percent of its time in the public market, so the biggest winners are likely the newest investors. The stock sank below the $8 mark for the first time in Septemeber 2015 and never returned.
The biggest shareholders in Stonegate, according to the latest public disclosure forms, are three New York-based private equity firms and one Ohio-based insurance company.
Cutillo owned 3 percent of outstanding shares at the end of 2015, the latest year for which there is available data.
Stonegate is the latest example of an Indiana firm losing its mantle as a public company. In December, California-based Genesys Telecommunications Laboratories Inc. closed its $1.4 billion deal to buy Indianapolis-based Interactive Intelligence Group Inc. And a few months earlier, Evansville-based parts manufacturer Accuride said it was selling itself to a New York-based private equity firm for $125 million.
Please enable JavaScript to view this content.