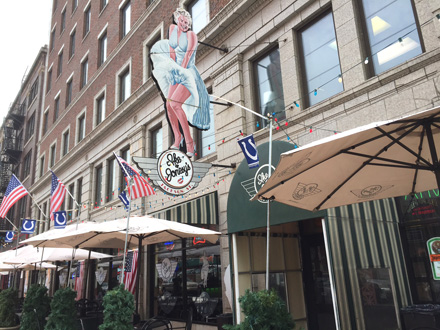 A historic building adjacent to Union Station downtown is one of the two locations in Indianapolis where Hilton is planning a new brand to jump on the trend of individualized and upscale hotels.
Named Tapestry Collection by Hilton, the brand has letters of intent to open seven hotels in six cities, with two set for Indianapolis.
Ratio Architects told IBJ it is designing one of the two slated for Indianapolis—a conversion of the 12-story One Jackson Square building—in addition to another in Nashville, Tennessee.
The Tapestry at One Jackson Place—at 233 McCrea St. between South Illinois and Meridian streets—will be developed by Indianapolis-based Sun Development & Management Corp.
IBJ first reported in late October that Sun was in discussions to convert One Jackson Place into a 110-room boutique hotel. Plans for Tapestry call for between 110 and 120 rooms, Ratio said.
Ratio is in the early design stage of the project and does not yet have a rendering available.
One Jackson Square was built in 1924 and originally housed the Spink Hotel. The building continued to let rooms, under various owners, until the 1980s.
Sun CEO Bharat Patel didn't return a phone call Monday morning seeking confirmation on the Tapestry location. But he told IBJ in October of his plans to convert the building to a hotel.
"We're going to open all the windows that were covered up and restore it to its original luster," he said. "It will be a boutique hotel with a historical flavor."
One Jackson Square houses restaurant Ike & Jonesy's on the ground floor and office tenants above. The fate of Ike & Jonesy's was not immediately clear on Monday morning. Owner Rick Eichholtz was not available for comment, and an employee told IBJ that no decision had been made.
The scale and location of the building makes it a natural fit for Tapestry, said Tom Cloud, director of the two Hilton projects for Ratio.
"We feel it is a positive sign that the City is on the list for the first round of the introduction of two new unique hotel brands represented by the Tapestry and West Elm hotels," Cloud said, also referring to plans by the West Elm chain to open on the northeast end of the Mass Ave district.
    
Sun purchased One Jackson Place from Maryland-based Choice Hotels International.
Choice paid $3.1 million for One Jackson Place in January 2016, according to county assessor records, and also bought nearby land at the northwest corner of South Meridian Street and Jackson Place.
That's where Sun originally planned to develop a Cambria Hotel & Suites for Choice Hotels. Sun still is moving ahead with the Cambria project and bought One Jackson Square and the surface lot from Choice in a package deal, Patel told IBJ in October.
Choice sold the surface lot to Sun with the caveat that the hotel be a Cambria, Patel said. He declined to reveal the purchase price for the package of properties.
Ratio also is designing the Cambria hotel for Sun. Design plans for the Cambria are further along that those for the Tapestry and could be presented to the Indianapolis Historic Preservation Commission soon, the firm said.
Upon announcing Tapestry on Jan. 24, Hilton officials declined to identify the locations of the two local properties, saying the agreements had not yet been finalized.
Other cities where Hilton will unveil Tapestry are: Chicago; Syracuse, New York; Warren, New Jersey; and Hampton, Virginia.
Please enable JavaScript to view this content.