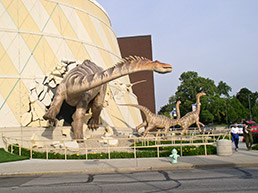 The Children's Museum of Indianapolis is changing its admission pricing model to reward visitors for planning and buying ahead.
Under the new structure, announced Wednesday, ticket prices will vary from day to day and increase when they are purchased closer to the day of entry. Adult admission prices will range from $12 to $35.
Lisa Townsend, vice president of marketing and external relations, said the new pricing will be based on a variety of factors, including seasonality and the school calendar. The museum has hired Indianapolis-based Digonex Technologies Inc., which also handles the ticket-pricing program for the Indianapolis Zoo.
Digonex specializes in "dynamic pricing" strategies that allow its customers to respond to changes in demand for tickets. The company says dynamic pricing can help attractions grow revenue, provide incentives for guests to visit on lower-demand days, and increase profits on high-demand days.
Museum officials say their goal is to offer affordable admission options more days out of the year.
"We really are trying to ensure that all families can experience the Children's Museum," Townsend said. "This is another effort to really be responsive to the economic needs of the community."
Under the plan, visitors will pay the lowest price available if they purchase tickets well in advance. Prices will rise as the entry date draws nearer. They will never be reduced at the last minute, unlike the way hotels and airlines reduce rates to fill empty seats and rooms.
"I think that's really frustrating because you don't know if you're getting the best possible price," Townsend said of lodging and air-travel pricing.
The average day-of price for museum adult admission is expected to be $21.75, which is $1.75 less than the current admission price of $23.50.
Tickets for children will be 20 percent lower than the adult price, ranging from $9.60 to $28. Seniors will receive a 5 percent discount, ranging from $11.40 to $33.25. The current ticket price for children is $19 and for seniors is $22.50.
The average day-of price for children will be $17.40 and $20.67 for seniors.
Prices go into effect March 13, and tickets can be purchased online or by phone.
Unlike when the Indianapolis Zoo switched to a variable pricing model in 2014, the Children's Museum is not using the strategy to control attendance on peak days, although museum officials say it could be a side benefit.
Some of the peak days, which usually are during school breaks, summers and weekends, could be priced higher, but the museum has committed to keeping at least 42 days in 2017 with day-of prices at $16 or less, including eight Sundays. The exact dates have not been determined.
"There will be a lot of days where the price is significantly lower than our current ticket price," Townsend said, estimating it could be as many as 100 days.
The museum will also continue to offer several free days throughout the year—President's Day, Martin Luther King Day, El Dia de los Ninos and Christmas Eve.
But the First Thursday program, which now offers free admission on the first Thursday of the month from 4 p.m. to 8 p.m., will no longer be free starting in April. Admission will cost $5 per person.
Other pricing options, including memberships, the Access Pass program and Neighborhood Club are not affected by the change.
If visitors can't attend the date for which they purchased tickets, the museum will allow the visit to be rescheduled. If the admission price is higher for the rescheduled date, the visitor has to pay the difference. Refunds will not be given if the admission price is lower on the rescheduled date.
Visitors must contact the museum by 5 p.m. on the original ticket date to be eligible to reschedule.
"We know things happen," Townsend said.
The museum welcomed 1.27 million visitors in 2016, which is its second-highest yearly attendance, behind only 2009 when the special exhibit "Tutankhamun: The Golden King and the Great Pharaohs" attracted more than 1.31 million visitors to the museum.
It also ended 2016 with a record number of household memberships, and membership purchases reached a record-high. The $35 million sports park known as the Riley Children's Health Sports Legends Experience is under construction now and could open in 2018.
Townsend said museum officials hope the new pricing structure will increase attendance as well as make staffing and planning easier, but that was not the primary reason for the change. 
Tickets can be purchased in advance through the end of 2017. Museum officials plan to monitor the new system and make adjustments as necessary, but it will more than likely continue into future years.
"I have every reason to believe it's going to go well," Townsend said. 
Please enable JavaScript to view this content.