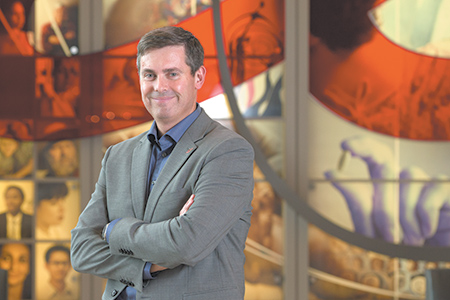 Eli Lilly and Co. CEO Dave Ricks said he was encouraged by President Donald Trump's understanding of the complexities of drug development, yet he's concerned about risks the industry may face in a fresh overhaul of the U.S. health-care system.
"There's a chance to get that right this time," he said of Republicans' Obamacare repeal-and-replace efforts, adding that the result should be a system that is market-based, increases access to medication and provides more choices for patients.
Pharmaceutical CEOs met with Trump on Tuesday at the White House to discuss drug costs, taxes on business, industry regulation and health reform. While Trump criticized the industry for high prices, he also promised to cut regulations and get new treatments to market faster. Drug and biotechnology stocks rose after the session.
During interviews with Bloomberg on Wednesday, Ricks said the CEOs tried to educate Trump about the pitfalls of government-controlled drug prices, including a system with what he called "strange economic distortions" that could increase price and reduce choice. He said they commended Medicare's drug-benefit program, where third parties help negotiate prices, a process he called "aggressive."
"I think that's an information gap that some of the folks close to the president had," he said. "The idea he's floated of, 'Hey, we need more government intervention,' we talked about the hazards of that, and our position is government intervention is what we've had."
Possible concessions
Little was said, though, about what concessions the industry might give on pricing.
"In a setting like that, we didn't get that specific. There are always concerns about multiple companies sitting in the same room talking about these things together," he said.
The U.S. doesn't directly regulate drug prices, unlike much of the rest of the globe. Setting the cost is a murky process between drugmakers, insurers and pharmacy benefit managers.
The industry agreed to give up tens of billions of dollars in new fees and discounts as part of the Affordable Care Act, to help fund coverage provisions under the law. Ricks said he's concerned that a new health-care overhaul could turn to drugmakers again for funding.
If Republicans repeal Obamacare, Ricks said, "it would be naive to assume that there isn't some set of pay-fors that legislators will need and be looking for to implement the replacement."
He also called a controversial executive order limiting travel to the U.S. from seven countries "confusing" and said Lilly was working with its employees and determining how they were affected. He said the Indianapolis-based company has focused on liberalizing visa programs for high-skill workers, such as making it easier to convert graduate education visas to work permits.
"Look, we're a global company, we need to operate globally, and the movement of talent is a key part of our business equation," he said. "So we're for national security. We also want to make sure that these policies allow us to continue to go and access global talent the way we need to."
Please enable JavaScript to view this content.