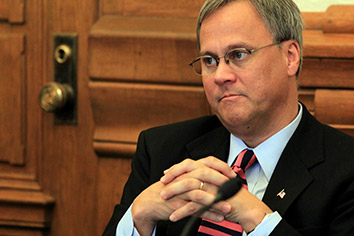 State Sen. Jim Merritt is throwing his hat into the ring to become chairman of the Marion County Republican Party.
Merritt told IBJ that he "holds the party pretty close to my heart" and said his focus issues in the state Legislature—including poverty, hunger and addiction—are "ideally suited for Marion County and the urban Republican model."
"If we don't reach out to those addicted to drugs, those who are hungry, those who have vacant homes on their block, we are not doing our duty," Merritt said. "I think the GOP should stand for community."
Others are also expected to seek the leadership spot. A new chairman will be selected March 4 as part of the Marion County Republican Central Committee reorganization process.
Many Republicans insiders believed that Merritt would run against Democrat Joe Hogsett, in the mayor's race in 2015, but he did not enter the GOP primary. The Republican candidate, businessman Chuck Brewer, ended up losing to Hogsett.
Democrats currently control the City-County Council, with 14 seats compared to Republicans' 11 seats. Republican council member Christine Scales defected to become a Democrat this week.
Merritt, who represents portions of Marion and Hamilton counties as a state senator, said he believes "Republicans can win in Marion County with good organization."
"We're going to work on the grassroots," Merritt said. "We're going to work on raising money and working on communications and messaging. I think I can provide the leadership."
Merritt is seeking to replace Council Minority Leader Mike McQuillen, who led the party on a temporary basis until announcing he would step down this week.
"I believe that there is much work to do in my role as minority leader of the City-County Council, working with our Republican councillors to move the needle on thoughtful policy, hold the mayor accountable to the people, and prepare for 2019," McQuillen said in a statement.
Asked if Merritt would be interested in running against Hogsett in 2019, he said he is focused on "reviving the party."
"We're not going to win the mayor's office if we don't have a strong party," Merritt told IBJ.
Merritt said he counts on others running for the seat and that he will be working on a "full-throated plan of what I plan on doing in leading the party." 
Please enable JavaScript to view this content.