Junior Achievement of Central Indiana has a new leader and is looking to rebound from a difficult year.

Jennifer Burk, a former Duke Realty executive and longtime JA volunteer, became president and CEO July 1. Burk had served as interim president for six months.

Burk said she has ideas for reinvigorating the base of corporate supporters and reaching more students with JA programs in entrepreneurship and financial literacy.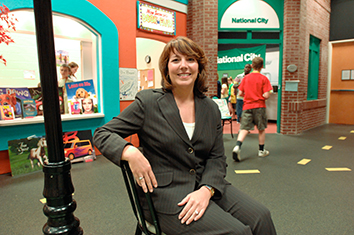 New CEO Jennifer Burk wants to maximize the use of JA's Keystone Avenue headquarters. (IBJ Photo/Robin Jerstad)

"We always have a great story to tell," Burk said. "It's even more meaningful and relevant right now."

Junior Achievement's own finances faltered in 2008 and early this year, as the corporate community pulled back on spending on sponsorships.

Revenue for the 2009 fiscal year, which ended June 30, dropped 14 percent from 2008 to $2.2 million.

JA has responded by laying off staff and leaving other positions unfilled. Among the departed was CEO Jeff Miller. He retired after 15 years in December.

Burk, who was president of the board, stepped in, at first on a part-time basis. The 46-year-old left her job as senior vice president of Duke's office leasing business to lead JA.

Burk plays down the organization's need for revenue.

"Our primary goal is just to reach and help more people," she said.

One of her top priorities is to maximize the use of JA's spacious facility on North Keystone Avenue, the Gene B. Glick Junior Achievement Education and Conference Center.

The 28,000-square-foot building draws more than 20,000 students each year for field trips to BizTown and Finance Park, JA's hands-on economics and personal finance simulators.

The two programs are operating well below their combined capacity of 40,000 students a year.

BizTown began years ago as Exchange City at JA's former downtown headquarters and draws 13,000 to 14,000 students per year. Fifth-graders take jobs such as bank teller or mayor and run their own mini-economy for a day.

Finance Park, offered the past five years, attracts around 7,000 participants per year. Seventh- and eighth-graders receive hypothetical adult profiles. Then they must shop for cars and insurance, sign up for utilities, and make other decisions to balance a household budget.

Burk is looking to make the programs available to students outside the traditional field trip. JA already offers a summer-camp version of BizTown. Burk said both simulators could be open after school or on weekends to kids who participate with groups other than their schools.

Increasing participation in Finance Park might mean tweaking the program to serve older groups.

"This could be used for college freshmen," Burk said.

She also is thinking about how to reach more kids in the 30-county area JA serves. She said JA might develop Web-based programs for schools that can't afford to make trips to Indianapolis.

Central Indiana is just one of 30 JA areas in the country that offers either the BizTown or Finance Park programs. JA has 134 areas nationwide.

"Our areas are getting very creative, out of necessity, in how they maximize their space," said Steve Schmidt, senior vice president of Colorado Springs-based Junior Achievement USA.

Recruiting sponsors is difficult these days, and especially so for Finance Park, Schmidt said. Because the experience deals with financial literacy, the kids spend their time working on computers. It's a less visually stimulating experience than BizTown, therefore a tougher sell to potential sponsors, Schmidt said.

The program began six years ago in Tampa, Fla. Although the local Finance Park is far below capacity, Schmidt said it's among the busiest in the country.


Key sponsors

Schools that participate in BizTown or Finance Park also teach the JA curriculum for four to six weeks. They pay $30 per student, but Burk said that's not enough to offset significant overhead costs.

JA relies heavily on the corporate sponsors whose names are emblazoned across the brightly colored storefronts at JA's headquarters.

Sponsors have trimmed or eliminated their support in the last 12 months. Burk would not go into detail about which sponsors were lost, but she said JA has recruited several new sponsors in that time, including St. Vincent Health, Citizens Energy Group, Key Bank, PricewaterhouseCoopers and the law firms Dann Pecar Newman & Kleiman and Taft Stettinius & Hollister.

Burk attributed most of the decline in revenue over the past 12 months to a drop in attendance at special events. JA's Bowl-a-Thon and Hall of Fame awards dinner are staples on the corporate social scene and have contributed more than $300,000 a year in income.

As the recession hit, Burk said, many companies cut their budgets for social functions. She hopes to revive interest this year with the help of David Becker, CEO of the local credit-card-processing company OneBridge.

As JA pared its own budget, Burk said, in-kind gifts and sponsorships have helped fill the gaps. One of JA's longtime sponsors, FedEx, provides nine part-time employees for a year at a time to work with kids in BizTown and Finance Park.

The number of Junior Achievement's own personnel has dropped from about 10 in 2008 to six, including Burk.

Miller's departure could save the organization significant salary costs. In recent years, his pay has represented more than 10 percent of annual revenue.

In the 2008 fiscal year, Miller's salary was $174,670, or 6.7 percent of $2.6 million in revenue.

The year before, Miller earned $213,111, and the organization's revenue was $2 million.

Board member Steve Anzalone, a recent appointee to the executive committee, defended the longtime CEO's pay.

"Jeff Miller drove the organization to national prominence over a long period of time," he said.

Side businesses

Miller will work through the end of this year as a consultant to a related foundation, the Experiential Learning and Entrepreneurship Foundation, which owns JA's headquarters building.

The foundation was set up when Junior Achievement moved from downtown, Miller said.

"This whole building was bought on the premise of finding new ways—to be more entrepreneurial—to support the organization."

Miller said he saw the need to diversify after the organization went through a similar slump in corporate support during the 2001 recession.

With the new building, Miller saw potential in the meetings and events business.

"There were people just coming to us, asking if they could meet there," he said.

Miller now works with his wife at an event-management firm called Performance Partners. The company formed in 2001 with Miller as secretary and another JA employee, chief fund-raiser Victor George, as president.

The Experiential Learning foundation, which collects rent from JA, also owns the for-profit subsidiary Just Ask Catering.

The on-site catering company started after JA's experiment with a Noble Roman's franchise inside its building failed.

Miller said the outlet couldn't draw outside traffic, and it wasn't serving all the needs of meeting planners. The foundation set up Just Ask in September 2007.

Miller hopes Just Ask, which is not yet profitable, will grow into a $1.5-million-a-year business and return a percentage of profits to Junior Achievement.

An unrelated tenant, the Children's Theater Institute, moved into the JA building in February 2008. The theater occupies a space that was originally intended to hold a second BizTown.

Miller's main role as a consultant to the foundation is to raise $6.3 million for a 130,000-square-foot culinary school that would be run by Ivy Tech Community College. He said $3.8 million is committed so far, and he hopes to have the remainder in pledges by the end of the year.

Ivy Tech is raising money to equip the school. It also would pay about $140,000 a year in rent to the foundation, plus supply student workers to Just Ask Catering, Miller said.

The foundation ended 2008 with $8.5 million in assets and a cash balance of $1.83 million. Miller said assets rose $2 million in the latest fiscal year, thanks largely to the money raised for the culinary school.•