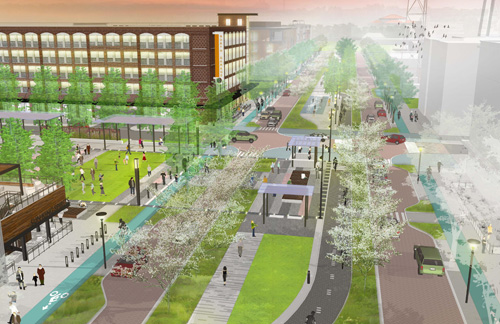 The city of Carmel on Tuesday announced a $23 million plan to expand the Monon Greenway through the heart of the city.
The project will transform what is now a 12-foot-wide path into a 140-foot-wide area from City Center Drive northward to 1st Street Southwest—a stretch of roughly a half-mile.
The newly named Monon Boulevard will include dedicated lanes for bicyclists, buffer zones, sidewalks, green spaces, one-way streets with parking on both sides of the trail, and a plaza near the Allied Solutions LLC headquarters in Midtown.
Carmel Mayor Jim Brainard said $20 million of the project will be paid for through already-approved bonds and the remaining $3 million will come from developer commitments.
Construction could start in July and should take about a year to complete.
Trail users will be detoured during some parts of construction, but a path will remain open at all times, Brainard said.
Early last year, Carmel hired Gehl Studio Inc., a branch of Denmark-based Gehl Architects with offices in San Francisco and New York, to study and propose a new design concept for the trail through the area known as Midtown, between City Center and the Arts & Design District. The $170,200 contract included creating plans for new landscape and urban features for the Monon area.
The Monon Boulevard project is a result of that study, Brainard said.
The city estimates that as many as 15,000 people travel that section of the Monon on a busy day, and it is considered the most congested part of the trail. An average of 300,000 people run, walk or bike the area from Main Street to the Palladium annually.
"It was too crowded and it was creating issues," Brainard said. "There were just too many people on that small trail, especially in that area."
The trail itself will be expanded to a width of 54 feet with separate paths for bicyclists and pedestrians and green space on both sides. The trail will be bordered by a 10-foot, one-way road for vehicles on both sides.
Parallel parking will be available on one side of each road.
A 6-foot buffer will separate the parking lane from a 5-foot cycle track for bicyclists.
Brainard said the cycle track will provide an option for cyclists traveling only a short distance, while the Monon will be considered the "interstate" path for longer rides.
Six-foot sidewalks will border the proposed buildings in Midtown and the cycle track.
The project also includes community benches, kiosks, a spray plaza, a bocce ball court, bicycle parking and public art.
"This investment of public dollars is another major step toward establishing Carmel's reputation as a city that embraces the culture of cycling," City Council member Bruce Kimball said. "This is an important distinction to have as we compete against others for corporate headquarters and high-paying jobs."
Please enable JavaScript to view this content.