President of Property & Casualty
Gregory & Appel Insurance
An active board member for Noble of Indiana and passionate advocate for Holliday Park, Appel opted (without pressure) for a key role in his family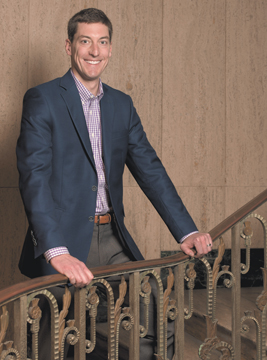 business.
Age: 36
Birthplace/hometown: Indianapolis
Family: wife, Susan; children, Caroline, 8; Charlie, 5; and Oliver, 2
Education: bachelor's in commerce, McIntire School of Commerce, University of Virginia; MBA, Indiana University Kelley School of Business
Years with company: 10
Getting here: After graduating from the University of Virginia, Appel worked as a middle-market commercial underwriter at Chubb Group of Insurance Cos. in Chicago before returning to school for his MBA. "I really enjoyed school," Appel said. "I always knew I wanted to go back for my MBA, not for the degree but for the continuation of the academic learning process." He joined Gregory & Appel between his first and second years in the MBA program, designing a major that allowed him to graduate with his class while working full time.
On moving into the family business: "People are always surprised when I say this, but it was honestly never discussed in my household. My parents never put any sort of pressure on me. It wasn't until college that my dad asked if this was something I remotely wanted to do." He started in commercial sales before moving into sales management, assumed departmental leadership, and ultimately became president of the property and casualty portion of the company.
Inspirational moment: "Realizing the power of trust," Appel said. "Teams can accomplish a lot when all members trust each other and believe that everyone is working toward the same goal. Being young in a position of leadership, I recognized this early on and always remain cognizant that I need to earn everyone's trust on a daily basis, but equally as important, I need to trust in the team."
Givebacks: Appel serves on the boards of Noble of Indiana, Friends of Holliday Park and Orchard School. He is also active in the Penrod Society. "While it's flattering when asked to serve, I have to believe in the mission and feel passionate about it."
Favorite place in central Indiana: Holliday Park. "It is such a beautiful, fun and varied park. You can go with your kids and enjoy the playground or ruins, but the part I love most are the trails and getting down by White River. You can forget you are not far from some of the busiest roads in the city."•
Please enable JavaScript to view this content.