Director of Stewardship and Adviser to the Glick Philanthropies
Central Indiana Community Foundation
As leader of donor services for The Glick Fund, Brady helps guide philanthropic dollars that change the face of central Indiana.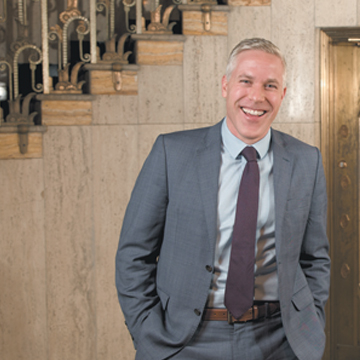 Age: 39
Birthplace/hometown: Batavia, Illinois, a Chicago suburb
Family: wife, Francesca
Education: bachelor's in business administration, University of Illinois; master of public affairs, Indiana University
Years with organization: 9
Getting here: Brady worked for Crowe Horwath as a business consultant in the Chicago area but, feeling a desire to give back to the community, he left to volunteer with AmeriCorps National Civilian Community Corps. His employer had held open his job but he instead became executive director of the YMCA of Greater Indianapolis. Brady moved six years later to his current position with CICF.
Roots of community service: Every weather-permitting Saturday for about 10 years, Brady's family met with a group to work on riverfront restoration in downtown Batavia, laying bricks, paving walkways, and building overlooks and decks.
Inspirational professional moment: "After my year of AmeriCorps service, I returned back to my job at Crowe … for one day." When Brady shared that the not-for-profit sector was tugging him back, a partner closed the door to his office and told him to follow his heart because he was young and could return to consulting later. "That moment changed my life, and I'll be forever grateful for his grace and encouragement."
Business challenge faced: Transitioning the Glick Foundation to a new generation of leadership. "Gene and Marilyn Glick were legendary," Brady said. "Through an intentional process of visioning and planning, I believe that I have successfully helped the next generation of Glick philanthropic leadership find the path that both honors the legacy of Gene and Marilyn while also blazes new, innovative trails."
On shaping the far-east side: "We need to develop and cultivate a sense of community and a sense of place, building relationships with local businesses including Finish Line and Celadon," Brady said. A concrete example of good work is School 103, the state's first Innovation Network School. It was the lowest-performing IPS school in the city but, within one school year, it has increased enrollment 20 percent.
Givebacks: Brady co-founded Giving Sum, a not-for-profit that engages the next generation in high-impact philanthropy. He's also a big brother with Big Brothers Big Sisters of Central Indiana and serves on the Central Indiana Bicycling Association Board and Christian Theological Seminary Faith & Action Advisory Board. He's also on The Mind Trust Grow Great Schools Campaign Committee and the advisory committee for the Asset Funders Network Indianapolis, of which he was a founding member.•
Please enable JavaScript to view this content.