CEO and Executive Director
Nine13sports
Emerging from a tragedy to create a business based on his passion, Hanley established a not-for-profit that promotes health, wellness and exercise for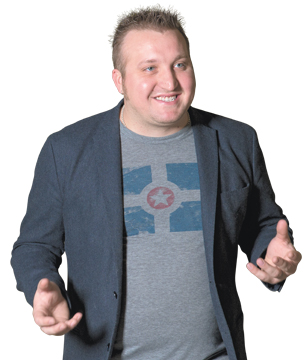 local 5- to 18-year-olds.
Age: 30
Birthplace/hometown: Dublin, Ohio
Family: single
Education: A four-time USA Cycling National champion, Hanley moved to Indy on a Marian College athletic scholarship, then transferred to IUPUI and graduated with a bachelor's in general studies.
Years with organization: 6
Getting here: Hanley was an elite-level cyclist focusing on going to law school when an accident on a private bus changed everything. His best friend was killed and he was left with two broken vertebrae. Lucky to be alive but with his cycling career over, he realized he no longer wanted to go to law school and, instead, developed Nine13sports, a youth bicycling program that has expanded from Indianapolis to Portland, Oregon, and, in October, to Minneapolis. "Forty percent of young people don't have access to a bike at home," Hanley said. "We have created a unique initiative in which we have integrated the traditional bicycle with technology to provide a turnkey product for youth programs, schools and other community organizations." The organization now has a staff of six and two fleets of bikes that it takes out to client locations.
Recent business challenge: "Growing a nonprofit from idea to reality has all the same challenges as a for-profit, with the added challenges of unique funding problems," Hanley said. "We've had immense demand, with more than 250 schools currently on a wait list in central Indiana. But it has taken time to find funding to scale accordingly."
On two-wheel culture: "The reality is that it's a different youth generation," Hanley said. "I used to bike as a way to get around. But we know from our surveys that about 10 percent of students we see on our bikes have never been on one before."
Inspirational moment: "At 29, my partner-in-crime and best friend, Denver Hutt, the original executive director for The Speak Easy, passed away after a three-year battle with cancer. Standing by her side and seeing how strong she was and how she didn't let it slow her down was a life lesson that taught me to embrace Indianapolis even more and how to be a better man."
Givebacks: Hanley serves as chairman of the Denver Hutt Legacy Foundation. He's also an IndyHub volunteer and worked on the Rev Planning Committee.                         
Back on the bike: "It took me a long time to grapple with the end of my cycling career happening not on my terms. I needed some time and distance to plug back into the sport in any way, shape or form—trying to find a way to be involved with the bike but not the cycling side of things. It took a long time to do that without being bitter or angry."•
Please enable JavaScript to view this content.