President
TWG Development LLC
Knoble was just 24 years old when he took a chance with TWG, and the company has now completed $392 million in development, totaling 44 housing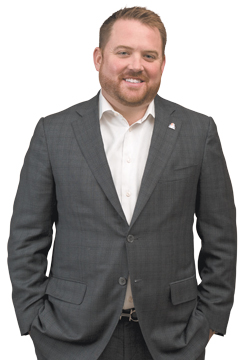 communities and 2,500 units.
Age: 34
Birthplace/hometown: Indianapolis/Beech Grove
Family: wife, Maureen; children, Simon, 6; and Estelle, 4
Education: bachelor's in accounting and finance with a specialization in real estate, Indiana University
Years with company: 9
Getting here: Before he left to start TWG, Knoble worked for Pedcor Investments, identifying and assisting in finding finance for real estate projects in four states.
Transitional moment: His stepfather, Joe Whitsett, talked to him about switching majors to accounting and finance and focusing on real estate. "When I graduated, I went to work at Pedcor Investments with Joe and then we started our company together. I am very thankful for his guidance and for the partnership we have."
Recent business challenges faced: "Our business has grown a lot and it has been difficult to manage it at times. About 3-1/2 years ago, we brought in a non-family-member partner, Dennis Dye, to help us manage that growth and it has been a huge success."
Major company achievements: The two-person operation that developed 30- to 40-unit affordable projects in Indianapolis has grown to a team of 150 with market-rate and affordable projects throughout the Midwest. Among many other projects, Knoble managed the Pulliam Square project and oversaw the Penn Street Tower renovation. He also oversaw the renovation of IPS School 76 into senior-living apartments.
What's next: "I would love for people to continue moving downtown and fill in these peripheral neighborhoods. When more people move downtown, then public schools and other things can start to thrive."
On affordable housing: "The misconception is that they bring down the neighborhood or change the neighborhood dynamic," Knoble said. "People don't usually relocate for these developments. The people already live within a couple of miles of the site. They are extremely needed."
Givebacks: Knoble serves on the board of the Good House (a low-cost residence for leukemia patients run by his aunt) and is a member of the Penrod Society and YPO Indiana.•
Please enable JavaScript to view this content.