Program & Event Director
Leadership Indianapolis
A relentless volunteer with political roots, Slash is a community leader committed to bettering Indy and the lives of its residents and visitors.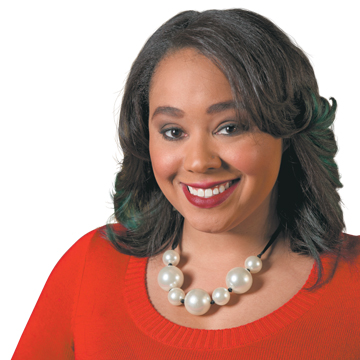 Age: 32
Birthplace/hometown: Indianapolis
Family: single
Education: bachelor's in political science, Hampton University
Years with organization: 2
Getting here: Growing up with a father who was deputy mayor, Slash said "politics became my thing. Election night is always my Super Bowl." When she returned to Indy after college, she went to work for the Indiana Republican Party on outreach for the 2006 re-election campaign of Carl Brizzi. "I adored the grass-roots side of politics, but not so much the off-season," Slash said. She joined United Way of Central Indiana where, having worked in every department except finance, she joked that she received her Master's of United Way. A stint as program support coordinator for Girls Inc. of Greater Indianapolis led to being offered the chance to join Leadership Indianapolis.
Leading with Leadership Indianapolis: "I'm doing what I love—connecting people to resources and helping them improve their lives through service." Her projects include serving as program director for the Civic Boot Camp and Leadership Education and Development programs, "where I get to help ignite a fire to serve and to make that service count."
Inspirational moment: In 2015, Marion County Republican Party Chairman Kyle Walker asked her to run for City-County Council. "That was the most inspirational moment I never knew I was waiting for." Her immediate reaction was: "Me, now, are you sure?" She went for it and lost. But she said it gave her the chance to "see Indianapolis through the eyes of my neighbors [which] really inspired me to work harder and dedicate my time to impact."
Givebacks: Slash serves as president of the board of The Exchange at the Indianapolis Urban League and is also on the board of Visit Indy. She's president of the Orchard School Alumni Heritage Association, serves on the membership committee of the Jewish Community Center, and is a youth director at First Baptist Church North Indianapolis.
Advice to voters: "Do research up and down the ballot and find the person that most represents your interests. There's no one-size-fits-all. There's never been a time when my entire ballot was lit up on one side."
Impactful show: "As a gift to myself this year, I got tickets to 'Hamilton.' Words cannot describe the connection to the lyrics I have and the fire that they give me to keep going. I am 'just like my country, I'm young, scrappy and hungry and I'm not throwing away my shot!'"•
Please enable JavaScript to view this content.