President
Sondhi Solutions
Sondhi's IT company, which started with one consultant, has grown to a more-than-$12-million-a-year business, topping the IBJ Fastest Growing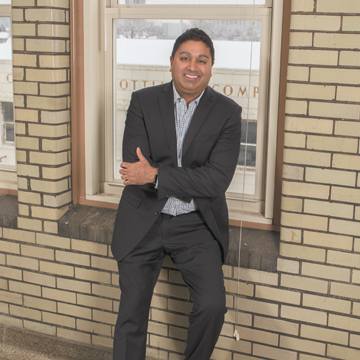 Companies list in 2016 and landing on the Inc. 5000 from 2014-2016.
Age: 33
Birthplace/hometown: Indianapolis
Family: wife, Jessica; twins Ava and Maya, 1
Education: bachelor's in computer information systems and entrepreneurship, Indiana University Kelley School of Business
Years with company: 7
Getting here: After a brief time as a systems manager for CAN Insurance in Chicago, Sondhi worked as an assistant at Barnes & Thornburg, as a fundraiser for Gov. Mitch Daniels and as political director for Mayor Greg Ballard. "When I moved back from Chicago, I kind of thought about going to law school," Sondhi said. "But through a lot of interactions, I was able to see different businesses and how they operate. I saw some gaps—some opportunities for me to be successful."
interest in running for office himself? "Not right now. I'm focused on my family and running the company and being helpful where I can."
Inspirational moment: Having his children, Sondhi said, "motivated me to become better in all aspects of life and business. [They] made me appreciate the big things and not worry about the small things that were out of my control."
On his company's growth: "Number one is being able to have a good team that keeps an entrepreneurial spirit and is consistent. When you have the opportunity to deliver the first time, you have to go above and beyond [showing] that this is the level of service and dependability that you are going to get." And that level of service applies "whether you are working with someone on the floor or the CEO of the company."
Givebacks: Sondhi has been involved in charitable work for Indy Reads and St. Mary's Child Center and has served as emcee for the annual auction for Christel House India.
Favorite place in central Indiana: Bloomington, specifically "Nick's or Little Zagreb. And I'm a big IU basketball fan. Any chance to go is great."•
Please enable JavaScript to view this content.