Cofounder and COO
One Click
An entrepreneurial jump took Stocklin out of high school psychological counseling and into e-commerce with One Click, named one of Inc.'s Best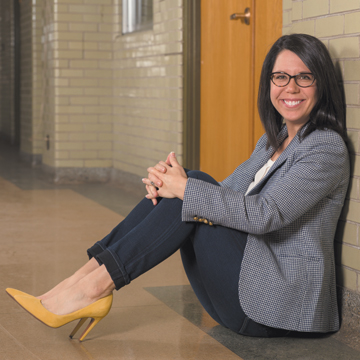 Workplaces in 2016.
Age: 39
Birthplace/hometown: Paoli
Family: husband, Randy
Education: bachelor's in psychology, University of Evansville; master's and education specialist degrees in school psychology, Indiana State University
Years with company: 11
Getting here: "My mom was a teacher and I was surrounded by teachers every day. I dreamed of being a teacher," Stocklin said. "Then I had my heart set on being a school counselor. I loved my classes and learning about what makes people tick." After graduation, she did work as a school psychologist in Martinsville. But Stocklin and her husband kept tinkering with side projects and finally co-founded One Click.
Business challenge faced: In 2013, One Click was a growing nine-brand fashion-accessories e-commerce company. "We had been growing via acquisition for the past few years but found ourselves spread too thin on the marketing side of the business and operating in a more transactional state as opposed to building consumer brands." After researching and evaluating options, the company decided to divest its seven non-eyewear brands and around 40 percent of its revenue to focus exclusively on eyewear. "They were all profitable and several were growing. And team members had strong emotional bonds because some were built from scratch. At the end of the day, though, we knew that too many brands would spread us too thin. Becoming experts in eyewear could give us the greatest reward potential." The company has since gone on to launch its own online prescription eyewear brand, felix + iris.
Thinning the herd: "We've made mistakes along the way," Stocklin said. "Some of those seven brands we divested weren't that great." The lesson: "Just because you executed perfectly doesn't mean it will be successful."
Givebacks: Stocklin serves on the allocations panel for United Way of Johnson County and on the advisory committees for Growing Global and Operation Summit. She established the One Click—One Community program for volunteerism and the One Click Charity partner program, which currently assists Timmy Global Health.
Favorite place in central Indiana: Broad Ripple. "I love the eclectic charm of the independent shops and old homes turned into businesses, and this part of Indy has the best selection of vegetarian food in the state."•
Please enable JavaScript to view this content.