Executive Director
Exodus Refugee Immigration Inc.
Under Varga's watch, Exodus moved to new offices, saw the greatest number of refugee arrivals in its 35-year history (947 individuals), and waged a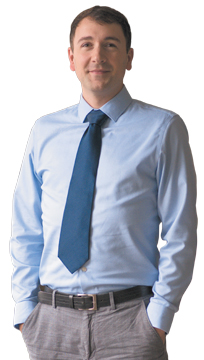 high-profile battle with former Gov. Mike Pence.
Age: 34
Birthplace/hometown: LaPorte
Family: wife, Stephanie; son, Owen, 2
Education: bachelor's in psychology and criminal justice, Indiana University; master's in international relations, University of Indianapolis
Years with organization: 7
Getting here: After graduating from IU, Varga moved to Indianapolis with friends and found a bartending job at The Rathskeller. With help from banquet work, he saved enough money to travel to Buenos Aires, Argentina, for seven months to live, travel and teach English. When he returned, he was hired by Kahn's Fine Wines and worked there before enrolling in grad school. He applied for an internship at Exodus while at UIndy and was hired part way through the internship.
Inspirational moment: He began his time at Exodus working with two families who'd just come to the agency. "They had experienced unimaginable horror and loss and yet they pressed on, always supporting each other as they began their new lives here in America. Hearing their stories and helping them through their struggles is what solidified my passion for this work."
Misinformation about refugees: "The big one is in regard to the security screening process. It's the hardest way to get into the country. It takes up to a year and a half with multiple screenings," Varga said. "Furthermore, a very small number are actually getting into the country. Last fiscal year, there were 85,000 out of 21 million in the world."
Major achievements: "With the help of the ACLU, we successfully defeated Gov. Mike Pence in federal court over his unconstitutional attempt to discriminate against Syrian refugees resettling in Indiana." Added Varga: "The whole thing got kind of ridiculous and embarrassing for the state. I was relieved that the Constitution still exists."
Favorite place in central Indiana: The Indianapolis Museum of Art. "There is something about being in the IMA among the centuries of works from around the globe that makes me feel connected to the rest of the world."•
Please enable JavaScript to view this content.