Two more hotels are on tap for Westfield as part of a proposed commercial project on the northwest corner of U.S. 31 and 191st Street.
The roughly 40-acre development, to be called The Commons at Chatham Hills, could include restaurants, a grocery store and pharmacy in addition to the hotels, developer Steve Henke told IBJ in advance of introducing a rezoning request for the property at Monday night's Westfield City Council meeting.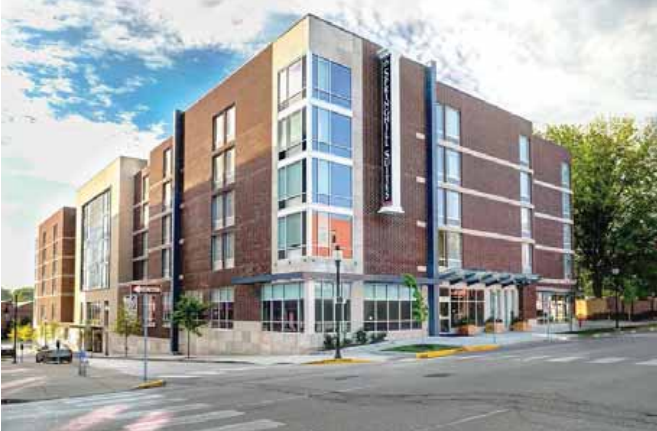 "It's a gateway to Chatham Hills residential development," said Henke, who is leading the project. "So we wanted to make sure whatever went in there was really good quality."
(An example of the intended architectural style of the commercial development is in the image at right.)
Chatham Hills is an 800-acre upscale golf community also being developed by Henke's company, Henke Development Group. The neighborhood stretches from 199th Street to State Road 38 and from U.S. 31 west to Horton Road. Housing construction and sales have been moving faster than expected, and it could include 1,500 homes when complete.
Site plans for the Chatham Hills commercial project show 14 outlots, with five having frontage along U.S. 31. Henke said that could change depending on the tenants.
He would not specify the hotel brands, but said a single developer would build the two hotels. The first would break ground in the fall, and the second would start after the first was complete.
A $17 million Cambria Suites and a $12.2 million Hampton Inn are currently under construction in Westfield.
Henke did not have a cost estimate for the entire development, but said the cost for the two hotels could be $40 million.
All buildings within the development would be at least 14 feet tall, and there would not be a maximum height for structures adjacent to U.S. 31. Buildings not adjacent to the highway would have a maximum height of 60 feet.
All buildings would be at least 3,000 square feet, but no maximum would be specified. Golf cart parking would be permitted, and at least 10 bicycle parking spots would be provided per building.
Henke said he expects The Commons at Chatham Hills to take five years to build out, and he's in negotiations with a pharmacy, restaurant and grocery store.
Other uses that would be allowed under the zoning include outdoor entertainment, gas stations, day care, nursing homes, drive-thrus, multilevel parking garages, family entertainment center, and public or private parks.
The zoning also permits agritourism, which would allow a tasting room for beer, wine or spirits; a distillery; farm stand; or temporary farmers' market.
The rezoning request is expected to be introduced to the Westfield City Council on Monday night. A vote isn't expected until April.
Please enable JavaScript to view this content.