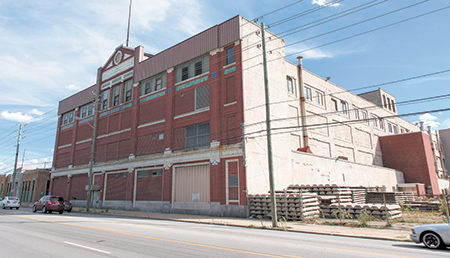 TWG Development Inc. is set to become the new owner of Ford Motor Co.'s vacated East Washington Street assembly plant that once was part of Angie's List Inc.'s grand expansion plans.
The Indianapolis Public Schools board on Thursday voted to accept the apartment developer's bid to buy the four-story, 102-year-old building for $1.65 million, which bested four competing proposals.
TWG plans to redevelop the 160,000-square-foot structure by converting the ground level into a mix of office and retail space, with market-rate apartment units on the top three floors.     
"We've done a lot of historic buildings, and we're in a historic building," TWG President Tony Knoble said. "It just seemed like the right fit for us."
TWG ultimately hopes to move its offices and consolidate them at the location, hopefully by the end of 2018, Knoble said. The company currently is in the American Building at 333 N. Pennsylvania St., a TWG redevelopment that includes 79 apartments, and also in space at 429 N. Pennsylvania St.
At 307 N. Pennsylvania St., where the Indianapolis Star headquarters building previously stood, TWG is embarking on the $70 million Park at Pulliam Square project, featuring 334 apartment units and 4,600 square feet of office space, in addition to 7,000 square feet of retail space.
In winning the bid to redevelop the Ford plant, TWG beat out proposals from Core Redevelopment LLC, Strongbox and Adams French Property LLC, all of which submitted bids of $1.5 million. Another bidder, Shawn Miller, proposed paying $1.1 million for the property.
IPS acquired the Ford building at 1301 E. Washington St. in 1979 from P.R. Mallory Co., a battery maker that moved in after Ford moved out in 1942. The school district decided to sell based on the property's location and its maintenance costs, IPS Operations Officer David Rosenberg told IBJ in October. The move is also part of a larger plan to shed excess real estate.
In 2014, Indianapolis-based Angie's List announced plans to buy and renovate the building, converting it to office space that would serve as the company's new headquarters. The conversion was to be part of a $40 million expansion, half of which would have been spent on the Ford building, but Angie's List called off its expansion plans.     
The facility needs a lot of work, though. It made Indiana Landmarks' most recent 10 Most Endangered buildings list, a roundup of historic properties around the state that the preservation group sees as most in need of help.
But the East Washington Street corridor is showing more promise, as activity in the Market East district intensifies. Milhaus Development LLC jumpstarted the area with its Artistry development, followed by Mentor and Muse.
Cummins Inc. finished its distribution headquarters early this year and, across East Market Street to the north, Flaherty & Collins Properties is building its $121 million 360 Market apartment tower.
Closer to the Ford plant, local apartment developer Herman & Kittle Properties Inc. is building 211 units on a 2.6-acre parcel as part of a project called The Vue at the southeast corner of College and Maryland Street.
To the south, South Bend-based Holladay Properties agreed last month to buy the Milano Inn building for a condominium and retail project. The well-known Italian restaurant closed at the end of last year after operating for more than 80 years.
Please enable JavaScript to view this content.