In 1994, the year Paul Brooks was named to Forty Under 40, his company at the time, Renaissance Inc., made the Inc. 500.

"I don't have a strong memory of either one of them alone," he said. "But I remember feeling there was a great benefit to us of the combination of those two things that happened in that year."

Renaissance, founded by Brooks and his father, Elton, trained financial advisers in how to make philanthropy a mainstream part of the service they provided their clients. After 13 years helping people learn to manage their tangible assets, he started The Helixx Group LLC, which helped "high-impact humans" such as C-suite executives and entrepreneurs who could benefit from having an agent to represent them.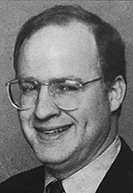 "The problem with our business model," Brooks said, "was that the intensity of the engagement with each client was so great that we could only take on two to three at a time, which was not very scalable."

Also, he said, by 2008 there was no capital to access, which effectively ended Helixx.

His next venture, Revealed Capital, provided eight years of research and development in how to effectively bring the Helixx concept to scale. That has led to his current company, Quiddity Systems, "a social architecture to support the new, emerging forms of people-centered value creation and work."

Brooks describes himself as "a serial entrepreneur and a consultant to entrepreneurs." He said he was never sure what kind of career path he expected.

"I was a product of my education," the Wabash College graduate said. "I was classically educated in the liberal arts. I didn't get an education based on a job that I was seeking, but sort of toward understanding myself better and who might need what I had to offer. I've always found it easier to start something than I did to find a job that somebody else had."•