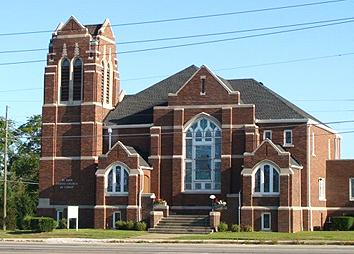 A planned redevelopment of a historic church on the far-east side that members once wanted to demolish likely will need to wait longer than expected.
Indianapolis-based TWG Development LLC, following a drawn-out drama concerning the structure's fate, in September agreed to purchase the St. John United Church of Christ building and land that partially sits in Cumberland.
The deal, however, was contingent upon the awarding of affordable housing tax credits for the project, which didn't make the first cut Thursday in the latest round of selections.
The federal credits are awarded annually to developers to incentivize private investment in affordable housing. Investors buy the credits, generating revenue to fund projects.
Out of 62 proposals in Indiana, only 16 were selected to receive the federal credits, illustrating the competitiveness of the program.
TWG's $10.1 million proposal to convert the church into a 60-unit senior housing complex wasn't among the 16 chosen, though there's still hope it will be redeveloped.
It's among five projects that have been placed on a wait list, meaning that if one of the projects that was selected to receive credits falls through for some reason, there's a chance TWG's church redevelopment could fill the void.
"They have a second chance," said Brad Meadows, spokesman for the Indiana Housing & Community Development Authority, which administers the federal credits. "It's rare, but it does happen."
If it doesn't, TWG still can reapply in November for the next round of credits.
TWG President Tony Knoble told IBJ Tuesday that the company remains committed to the project but acknowledged that church leaders could put the property back on the market.
"We're pretty dependent on what the seller wants to do," he said. "We've asked for an extension for control of the property. We want the project to work; it's just unfortunate it didn't get awarded. Maybe with some luck we'll pull it together."
Church officials did not immediately respond to a request for comment.
TWG's redevelopment of the building would end the uncertainty surrounding the future of the historic church structure at German Church Road and East Washington Street.
For more than a century, the land in question has been the site of the Tudor Gothic Revival-style church, which once was known as Deutsche Evangelische St. Johannes Kirche. It opened in 1855, initially serving German immigrants who farmed the surrounding area. That structure was replaced later that century, and the current building opened in 1914.
 
Amid dwindling membership, the congregation in October conducted its last service in the church. It continues to meet at a temporary site, the Muesing Activity Center at Prospect Street and Carroll Road, until funds can be raised to build a new church.
Officials had said they would likely demolish the building to make the property more attractive to sell.
Other projects placed on the wait list include three in Hamilton County: the proposed Noblesville Granary Elevator and Lofts and Stoney Creek Senior Apartments, in addition to a redevelopment of the old Adams Township school in Sheridan.
Metropolitan area projects that were awarded credits include three on the east side of the city.
Near East Area Renewal received more than $1 million in tax credits to help convert IPS School 78 into 64 senior housing units as part of a $12.2 million project with TWG.
The project calls for 54 two-bedroom apartments and 10 one-bedroom units, in addition to full-day child care services.
The 65,000-square-foot school, which operated as Minnie Hartmann School 78 until it closed in 2009, would be known as the Minnie Hartmann Center. NEAR hopes the center will open in 2018.
The school building sits at the intersection of East Vermont Street and North Sherman Drive, about a block south of East Michigan Street and the former RCA plant site that's been cleared for redevelopment.
Also on the east side, the John H. Boner Community Center received $585,165 in tax credits as part of a $7.1 million project to either rehab or construct 36 homes. The majority, 24, would be three bedrooms, then nine with two bedrooms, two with four bedrooms and a single one-bedroom unit.
The only other project in Indianapolis to receive tax credits also would be constructed on the east side.
Englewood Community Development Corp. received $557,814 in tax credits to help build a $7.4 million, 39-unit senior housing complex on a vacant lot fronting East Washington Street. The site sits between South Parker Avenue and South Oxford Street and just west of the former P.R. Mallory factory building, where Purdue University's new Polytechnic High School might locate.
Other projects in the Indianapolis area receiving tax credits were: a $10.5 million, 64-unit senior-housing complex that would be built by Fort Wayne-based Keller Development Inc. at the southeast corner of U.S. 40 and Quaker Boulevard in Plainfield, and an $8.5 million, 54-unit apartment project that would be constructed by Columbus, Indiana-based Developmental Services Inc. at 210 Center St. in Greenfield.
Pedcor Cos. planned second phase to its Retreat on Washington apartment project at the Central State site on West Washington Street didn't make the cut and was denied tax credits.
Please enable JavaScript to view this content.