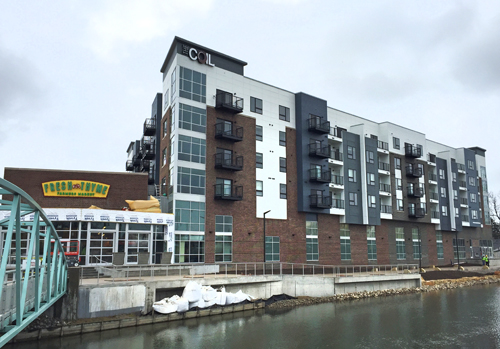 Broad Ripple's quest to bring more residents into its commercial core and add more daytime traffic to the nightclub-studded neighborhood is about to get a big boost on April 1.
That's when Browning Investments is set to open its $37 million Coil mixed-use development on North College Avenue along the northern edge of the Central Canal.
The project contains 151 apartments ranging in size from 550 square feet to 2,980 square feet and is anchored by a 33,500-square-foot Fresh Thyme grocery store. Monthly rents range from $950 to $2,500.
Counting The Coil, Broad Ripple is on track to add as many as 500 apartment units within the next year or so. The neighborhood for years has been known more for late-night revelry, while struggling to develop a critical mass of shops that draw customers during regular business hours.
"You need people living in Broad Ripple, not just going there to drink," said George Tikijian, managing director of the Tikijian Associates apartment-property brokerage.
Browning, along with Sheehan Construction Co. Inc., built the five-story Coil—a project that Jamie Browning, the company's vice president of real estate development, thinks will help transform the area.
"We think that it's spurring a lot of activity in Broad Ripple and will help to activate the village, with the population being created here," Browning said.
Browning assembled the property on which to build The Coil by buying adjacent parcels that housed a long-vacant Shell station and several low-rise apartment buildings.
The village boasts a few apartment complexes. The last to be built was Buckingham Cos.' 150-unit addition to its Monon Place property just east of the Monon Trail between Kessler Boulevard and 61st Street.
The second phase, added in the past few years, has been well-received, Tikijian said.
"It's always full, so I think there is demand to live in Broad Ripple," he said. "Not everybody can live downtown, or wants to, for any number of reasons."
At least one other apartment project is under construction in the village, with a couple more nearing the construction stage.
North of The Coil, at the northwest corner of East 66th and Ferguson streets, Carmel-based J.C. Hart Co. Inc. is building its $17 million, 108-unit Park 66 project.
The developer this spring also plans to start constructing a $16.3 million project with 136 units on the Rogers Pools property at 6364 Westfield Blvd. Plans call for demolition of three buildings, two on the south side of 64th Street and one on the north side.
And to the south, at 6311 Westfield Blvd., Todd Morris has proposed building an 80-foot, six-story building with 105 apartments and 5,000 square feet of street-level retail where a three-story office building now stands.
At The Coil, leasing activity so far has been "very good," Browning said. Unadulterated views of the canal and direct access to Fresh Thyme for residents via an elevator are among the selling points.
The Indiana chapter of the NAIOP commercial real estate development association within the past week honored The Coil as the state's best mixed-use project of 2016.
Please enable JavaScript to view this content.