Indianapolis Indians Chairman and President Max Schumacher walks a familiar route before each home game. He shakes hands with ushers, talks with fans, and mixes with sponsors and suite holders.

Schumacher—who started with the team in 1957 as ticket manager—always checks the level of activity at the ticket windows outside the centerfield wall.

The business, like Schumacher, is steady, with the Indians on target to reach profitability in 2009 for the 34th straight year.

The man who gets credit for much of that success is a creature of habit: He eats a hot dog at the ballpark for dinner one game and a hamburger the next. And always with a side of fruit.

The 76-year-old said the fruit—along with eight hours of sleep every night and maintaining an even-keel temperament—are key to his longevity. He looks substantially younger than he is and makes at least four complete loops around Victory Field during most home games.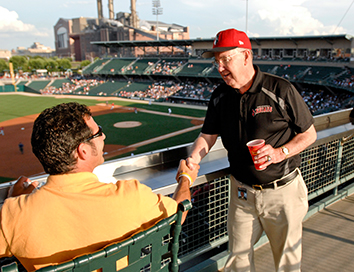 Indianapolis Indians Chairman Max Schumacher greets spectator Pat Cassella of West Haven, Conn., during his rounds at Victory Field. (IBJ Photo/Robin Jerstad)
Much like the ballpark he helped get built on downtown's west side, Schumacher is meticulous, wearing a neatly pressed, collared, Indians shirt tucked in to his belted slacks. An Indians cap sits high and straight on his head.

During his rounds, Schumacher carefully checks that aisles remain clean, paint on walls isn't peeling, and lights aren't burned out.
The AAA minor-league baseball team enjoys what is now an almost unparalleled streak of profitability, but it wasn't always that way. And while Schumacher enjoys high marks from the team's fans and board members alike, he's had his detractors.

A handful of the team's stockholders and industry observers said a franchise-financed stock buyback led by Schumacher over the last decade undervalued Indians stock, while he amassed a 40-percent ownership stake.
Others said Schumacher angered the Cincinnati Reds in the 1990s by demanding they field a competitive AAA franchise and not call up players late in the season. Detractors say the demands caused the Reds to jilt the Indians and sign a deal with Louisville's AAA team.
But those closest to him say Schumacher has weathered every storm with honesty and integrity, an open mind and a steady hand.

"Let's not forget, Max was the one who brought in profit-sharing and dividends for the stockholders," said Henry R. "Hank" Warren Jr., 91, a former Stokely-Van Camp marketing executive who served as Indians board chairman from 1978-1986 and 1988-1997. "Max is responsible for a great deal, not only with the Indians, but within this city, and he's never sought the limelight for what he's done. It's all been in a day's work."

If Schumacher had any problems with past major-league franchises—he admits the relationship with former Reds owner Marge Schott wasn't the best—he seems to have few enemies in Major League Baseball now. The Indians have been affiliated with the Pittsburgh Pirates since 2005, and last year the two extended their partnership through 2012.

"Max has high expectations and that forces people around him to operate at a very high level," said Kyle Stark, the Pirates' director of player development. "They run a major-league-type operation in Indianapolis, and it's a great place for our prospects to develop."

So sterling is Schumacher's reputation these days that MLB agreed to hold its winter meetings in Indianapolis this December.

"For Major League Baseball to hold its winter meetings in a northern, minor-league town is pretty unusual," Stark said. "I think a lot of that has to do with all that Max and the Indians have done for the game of baseball."

Old school

Schumacher, who works from a simple Victory Field office—there's a Brother ML 300 typewriter by his side but not a computer in sight, has always done things his way.
Occasionally accused of being too conservative, Schumacher has made the franchise a financial success by keeping a careful eye on the operation's purse strings.

Schumacher calls his style straightforward, rather than conservative. Either way, one thing is sure—each move he makes is carefully calculated.

The carpet in the front office has paths worn in it because it hasn't been changed since the city opened the $18 million, 15,500-seat stadium in 1996. On the other hand, Schumacher approved $1.1 million for a digital scoreboard in 2003—still the largest, most elaborate of its kind in minor-league baseball.

"We have to decide carefully where to spend our money," he explained. "We prefer to focus our investments where the fans benefit the most."

And fans seem happy. The publicly traded club made a profit of more than $1.2 million each of the last two years. Plus, it did so paying its own way, unlike the city's other professional teams, which have had to rely on generous public subsidies over the years.

The city did finance $14 million in construction costs of Victory Field. The Indians are to pay $5 million plus interest back in lease payments and $4 million came from private donations. When some counseled Schumacher to ask the city to cover the team's cost to play there, Schumacher followed a different path.

Tired of working out of a deteriorating city-run Bush Stadium, Schumacher insisted on controlling Victory Field. City officials, eager to jettison the expense, happily obliged.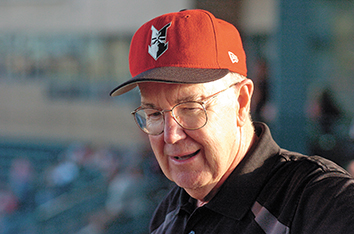 Indians Chairman Max Schumacher, who turns 77 in October, said while he's not ready to retire, he and the team's board are planning his exit strategy. (IBJ Photo/Robin Jerstad)
The Indians agreed to pay $500,000 annually to inhabit Victory Field. The club also covers operating expenses and general maintenance, which totaled $3.52 million in 2008. It's no small expense for a franchise that brought in $8.7 million last year. But Schumacher has no regrets.

Schumacher concluded long ago that minor-league baseball had to be about more than winning and that the Indians couldn't depend on affiliating with a popular MLB franchise, many of which he believes are run by fickle ownership groups.

"What we can control is our game-day environment," Schumacher said. "We knew we needed to make the venue a draw to keep attendance high."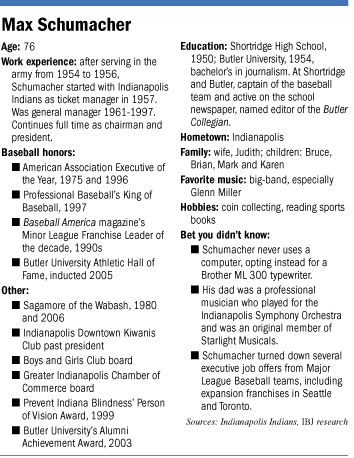 Just getting Victory Field built required going against the grain. Schumacher said he unsuccessfully lobbied then-Mayor Bill Hudnut for a downtown ballpark for several years, before finally getting Mayor Steve Goldsmith to buy into the vision after he took office in 1992. Attendance rocketed from less than 400,000 annually at Bush Stadium to 600,000-plus at Victory Field. Last year, the team drew 606,155, the most in eight years.

Meaningful mentors

Schumacher learned early that achieving success was a team game.

After graduating from Butler University in 1954 with a journalism degree, then serving two years in the army, Schumacher won the confidence of banking executive and Indians board Chairman Frank McKinney Sr. to earn a spot as Indians ticket manager.

Schumacher took on additional responsibilities as promotions director in 1959 and became general manager in 1961.

"When I became the general manager, we never had two quarters to rub together," Schumacher said. "We had $2,000 in the bank, payroll due in two weeks, and other bills. It was touch and go."

The team was on the brink of insolvency.
"I quickly learned you pay taxes and payroll, and everything else can wait," Schumacher said.

In 1961, he went back to school, enrolling in Butler night classes to study accounting.

Schumacher already knew plenty about overcoming fiscal adversity. He and his two older sisters were raised by a single mother working a low-paying job. He watched his estranged father struggle as a musician who played bassoon in the Indianapolis Symphony Orchestra and at Starlight Musicals.

At Shortridge High School, he was mentored by his journalism teacher, Jean Grubb, and his baseball coach, Jerry Steiner, both of whom are still living and are in touch with Schumacher.

Grubb, 105, taught him the value of writing and communication. He later became editor of Shortridge's student newspaper, the Daily Echo, which published five days a week.

Steiner taught him how to play baseball strategically, using his strengths and exploiting opponents' weaknesses. With Schumacher as second baseman and captain, Shortridge won the city championship in 1950.

His early mentors taught him the value of a strong work ethic and the benefits of networking. Steiner pointed him to city parks director J.R. Townsend Sr., who hired Schumacher to work with the parks department's youth baseball program, a job that helped him pay his way through college.

Townsend later introduced him to Indians board member McKinney. Schumacher's connections also landed him a job in the Indiana State Fair ticket office, an experience that proved invaluable in his early days with the Indians.

Love of the game

Schumacher credits his lifelong love of baseball as much as anything for sustaining him through the Indians' lean years.

"I wasn't smart enough or experienced enough to know how tough it was," Schumacher said.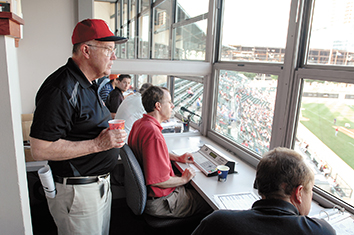 Schumacher checks the action in the announcer booth run by his son Bruce, right. Bruce serves as the team's corporate development director. (IBJ Photo/Robin Jerstad)
There was a string of years during the 1960s and early 1970s where the team was nearly insolvent.

"The team would make $20,000 one year and lose $20,000 the next," said Warren, the former board member. "It was a very tumultuous time both for the country and minor-league baseball. I'm not sure any of us were exactly sure what the future would hold."

Steiner, 92, said the same characteristics that made Schumacher a solid high school and college player helped him lead the AAA franchise out of financial ruin.

"He was never a long-ball hitter, and he wasn't too quick on his feet," Steiner said. "He was a student of the game and figured out other ways to win. I call what Max had 'baseball sense'."

While many minor-league teams were turning to zany marketing antics, Schumacher stressed a more conservative approach, emphasizing the same thing the franchise does today: affordable family entertainment. He also ushered in an era of group sales, getting local companies to buy blocks of tickets, which also boosted concession sales.

In 1975, helped by the popularity at the time of the Cincinnati Reds, the Indians turned the corner financially, and they've never turned back.

Refusing call-ups

Schumacher, who worked a college internship for the Indianapolis Times under Managing Editor Irving Liebowitz, never envisioned a lifetime sports-management career.

"I thought I'd be working for the Star as a sportswriter or in someone's public relations department," Schumacher said.

But after taking his first job with the Indians, he was hooked. Schumacher had several offers to join MLB front offices—one with the expansion Seattle club in the 1960s, when an ownership group led by actor Danny Kaye sought him out, and another in the mid 1970s with the expansion Toronto franchise.

Peter Bavasi, who led the Toronto effort, said Schumacher was an easy target. Bavasi was the son of former Brooklyn and L.A. Dodgers General Manager Buzzy Bavasi, whom Schumacher met through a mutual acquaintance.

"[Schumacher] is a brilliant operator who understands the baseball business as well as anyone who has ever worked in the game," said Peter Bavasi, who later consulted for Indianapolis when the city was considering applying for an MLB franchise.

In the 1980s, Schumacher was courted by Bill Bidwill, who now owns the NFL's Arizona Cardinals, about running a professional soccer team in St. Louis. Schumacher also fielded an offer to work as an executive in Minor League Baseball's Florida headquarters.

He said he never seriously considered leaving.

"Professional sports … can be very turbulent," Schumacher said. "Here, I had a great relationship with the board, I knew the people here who could get things done, I was pretty much my own boss, and my family was here.

"Besides, I love Indianapolis. I couldn't have asked for a better career than I've had with the Indians."•