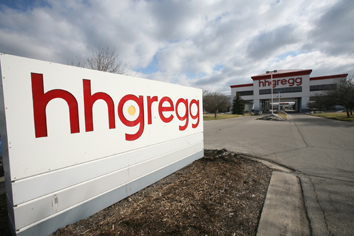 HHGregg Inc. said earlier this week that it has lined up a buyer. But a bankruptcy filing late Thursday reveals that other potential suitors will have the opportunity to submit competing offers by April 21.
The Indianapolis-based appliance and electronics retailer on Monday filed for Chapter 11 bankruptcy and followed up late Thursday evening with a timeline for its sale.
HHGregg will accept bids until April 21, with an auction, if necessary, slated for April 24. A judge would hold a hearing the following day to approve the sale.
HHGregg has not identified its proposed buyer. CEO Bob Riesbeck told IBJ on Tuesday that "the group requested to remain anonymous at this time" but would be "disclosed in due course." HHGregg also has not revealed the purchase price.
In Thursday's filing, HHGregg calls the group a "committed buyer" but acknowledges it still is "working toward" an agreement. That group would be what's known as a "stalking horse bidder," a party making the initial bid that any prospective buyer would have to beat. Suitors in that position often receive a break-up fee if they are outbid and the business is acquired by another party. The filing says HHGregg will file more information upon reaching an agreement with the group.
In the filing, HHGregg said the stalking horse bidder would continue the business as a going concern and would continue to operate the 132 stores slated to remain open after the company completes the recently announced closings of 88 stores and three distribution centers.
HHGregg engaged Stifel Nicolaus & Co. on Feb. 11 to "pursue a range of potential strategic and financial transactions" in hopes of returning the company to profitability. Stifel contacted 73 potential bidders and entered into "high-level" discussions with 47, including 31 that ultimately signed confidentiality agreements, according to Thursday's filing.
"Stifel continues to engage in active dialogue with a number of parties interested in acquiring" HHGregg, the filing said. 
If the company is sold to the stalking horse bidder, the filing says, "the debtors will continue to operate their core businesses for years to come for the benefit of their loyal customers, landlords, employees and suppliers."
HHGregg's legal counsel in the bankruptcy is Indianapolis-based Ice Miller LLP and Philadelphia-based Morgan Lewis and Bockius LLP.
HHGregg was founded in 1955 by the Throgmartin family but lost its way after going public in 2007 and launching an aggressive push to go national. The expansion coincided with price deflation and increased competition in consumer electronics, which had generated the majority of its sales.
Unlike many companies filing for Chapter 11, HHGregg has a relatively light debt load—just $30 million as of Dec. 31. But it is saddled with $190 million in lease obligations on the stores and distribution centers slated for closure. HHGregg said it plans to use the bankruptcy process to get off the financial hook for unwanted leases.
The Chapter 11 filing in U.S. Bankruptcy Court in Indianapolis estimates the company's assets and liabilities at between $100 million and $500 million. The company will provide more detailed information on assets and debts in the coming weeks.
HHGregg has reported 13 consecutive quarters of losses—a slide that has decimated its stock price.
The company went public at $13 and traded above $30 in 2010. Shares have declined since that point, dipping under $1 in January. HHGregg is now trading as an over-the-counter stock after New York Stock Exchange suspended trading on Feb. 28. Shares were trading near 12 cents Friday morning.
Please enable JavaScript to view this content.