A mixed-use development that could cost up to $200 million received approval from the Westfield City Council on Monday night.
The Grand Millennium Center, proposed by EdgeRock Development LLC, is expected to include a 120,000-square-foot civic center, 100,000-square-foot YMCA, aquatics center and health care facility, 130,000-square-foot convention center and at least one hotel with possibly 500 rooms. (Click on site plan image for larger view.)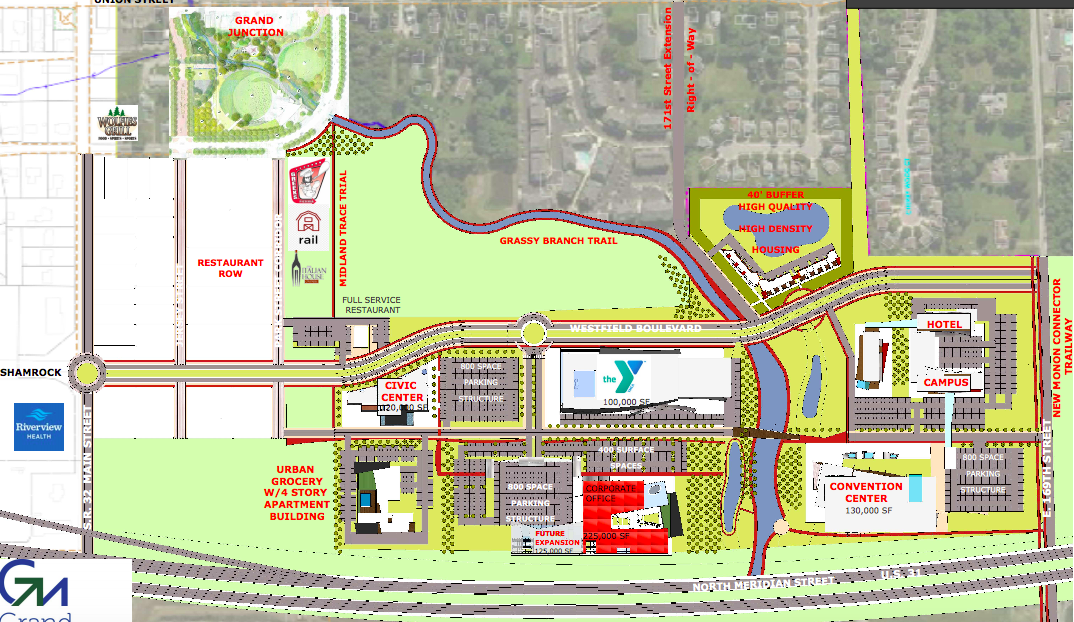 It also might offer 225,000 square feet of corporate office space along U.S. 31 with the potential for a 125,000-square-foot expansion and a "high-density, high-quality" residential section, according to plans.
EdgeRock principal Birch Dalton has estimated it will cost between $150 million and $200 million to develop the project.
The development will cover 66 acres along the east side of U.S. 31 and south of State Road 32, stretching from Park Street to 169th Street. Poplar Street will be extended south through the property to 169th Street and renamed Westfield Boulevard.
The project is divided into three districts—commercial, mixed-use and multifamily. The commercial section will be along U.S. 31 and 169th street, to the west of the new Westfield Boulevard, and the mixed-use district will be north of the commercial section. The multifamily area will be on the east side of the new Westfield Boulevard.
Buildings could be as tall as eight stories in the mixed-use and commercial districts. The multifamily area would be limited to three-story structures.
Up to 500 units would be allowed in the multifamily district, and up to 250 units are permitted in the mixed-use district with the requirement for nonresidential uses on the first floor.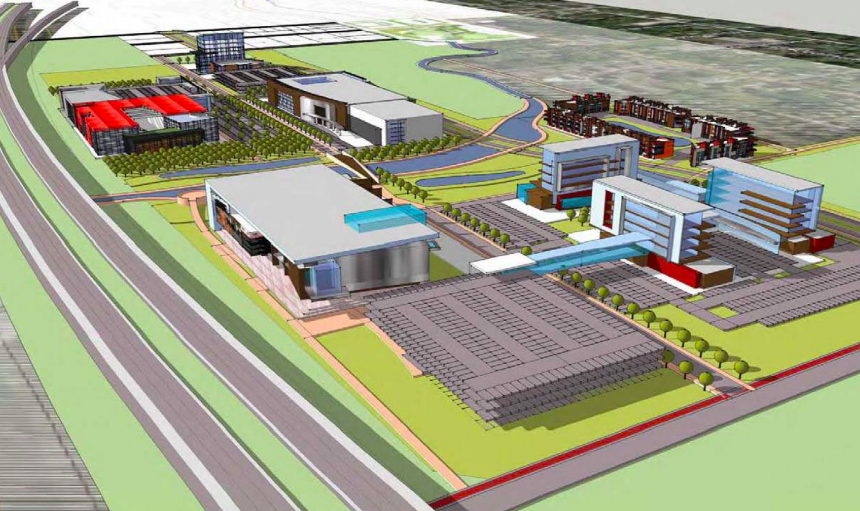 According to the site plans, the mixed-use area will include an urban grocery store with a four-story apartment building.
Surface parking and three parking garages each with 800 spaces are also outlined in the site plans.
Even though city of Westfield officials and Dalton are planning for the development to include a YMCA facility, the organization has not committed to the site. The only YMCA facility in Hamilton County is in Fishers.
The convention center component is expected to involve a public-private partnership.
The development is southwest of Westfield's proposed Grand Junction Plaza and is expected to connect to the $25 million urban park through a trail system.
Westfield Mayor Andy Cook initially revealed plans for the project during his State of the City address in November.
The council voted 6-0 to approve the rezoning request for the project. Council member Robert Horkay recused himself.