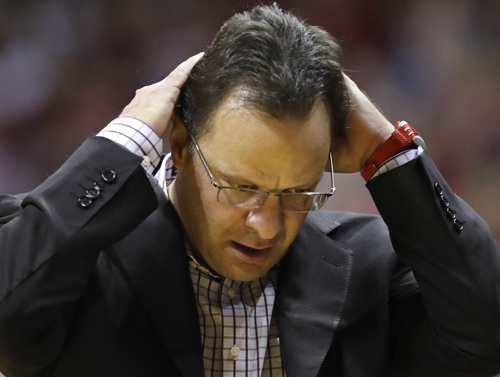 Indiana University fired Tom Crean as its men's head basketball coach Thursday as cries for his removal—including some from the school's biggest financial supporters—grew to a deafening roar.
Bart Kaufman, chairman and CEO of Kaufman Financial Corp., told IBJ on Tuesday, just two days before IU officials announced their decision, that "all the large donors I know" were frustrated.
And many are willing to pay more to get a better coach.
"IU basketball is more capable of winning than it has under Tom Crean," Kaufman said.
Stephen Stitle, partner with the local office of law firm SmithAmundsen and a longtime IU financial supporter, told IBJ he was "very disappointed in the results of the basketball program."
Stitle, who earned an undergraduate degree from IU in 1967 and a law degree in 1970, said, "It's time for a change to be more successful and consistent."
While Kaufman, Stitle and several other IU donors told IBJ they would never pull their contributions to the school over their displeasure with the basketball team, Kaufman said the financial risk for the school was real.
"What you lose is the new donors," he said. "Sports, and winning sports programs, can be a real hook to bring in new donors."
This season, which ended in a 10th-place Big Ten finish and first-round National Invitational Tournament loss, the stream of complaints about Crean hit "a fever pitch," said Derek Schultz, co-host of WNDE-AM 1260's afternoon sports-talk show.
"Indiana supporters and alums are just sick and tired of the roller-coaster," Schultz told IBJ the day before Crean was fired. "People call into the show and say they've been season-ticket holders for 30 years and they're not going to do it anymore." 
Some have been questioning Glass—not just about Crean but also his decision to play this year's first-round NIT game at Georgia Tech instead of at Assembly Hall, despite IU's better seed. Kaufman called the decision "pitiful."
Glass did not return calls seeking comment.
Glass didn't hire Crean, but in 2012 extended the coach's contract through 2020 and gave him a more-than-$600,000 annual raise, to $3.16 million. That decision, coupled with the 2012 hiring of Kevin Wilson as football coach, has Kaufman questioning Glass' ability to hire a quality coach. Wilson departed following last season amid complaints about his treatment of players. Wilson also was not able to muster a winning Big Ten Conference record.
To Find Crean's replacement, Kaufman is calling for Glass to pull together a search committee led by the likes of former IU basketball star Quinn Buckner and Del Harris, a former NBA coach who earned a graduate degree from Indiana.
"I don't believe Fred Glass is a basketball savant. My concern is, if this isn't done right, we'll trade a headache for an upset stomach," said Kaufman, whose name is on IU's baseball venue, Bart Kaufman Field.
Finding a top-flight replacement for Crean won't be cheap. Schools like Louisville and Kentucky pay their coaches millions of dollars more a year than IU paid Crean. Billy Donovan—an often-mentioned replacement for Crean—is paid more than $6 million annually by the NBA's Oklahoma City Thunder. Luring former Butler University and current Boston Celtics Head Coach Brad Stevens would likely cost even more.
Kaufman has no problem with paying a coach big bucks.
"IU can pay whatever it wants," he said. "The Big Ten Network is like an ATM, and it's only going to spit out larger sums of money with each passing year."
But he fears IU President Michael McRobbie will be hesitant to pay top salary. He pointed out the school replaced Wilson with Tom Allen, now one of the Big Ten's lowest-paid football coaches.
"The basketball program is a valuable asset and spending to maintain it, I think, is a good use of the money," Kaufman said. "You're going to get a return on that investment. As my dad used to say, you have to spend money to make money."
The status of Indiana's basketball program is especially important to its finances and branding. Only the universities of Louisville, Kansas and sometimes Kentucky generate more revenue through their men's basketball team than does IU, according to public financial filings.
And at a time—from 2006-2015—when most schools' reliance on basketball revenue has declined, IU's has increased significantly.
That fact has IU supporters amped up over whom Glass might hire to replace Crean.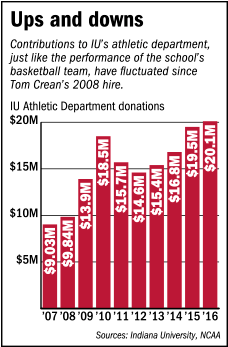 The percentage of revenue across all NCAA Division I schools coming from men's basketball decreased from 23.1 percent in 2006 to 18.4 percent in 2015, according to NCAA financial reports and the number-crunching studies of an IU finance professor. During that same period, however, IU's reliance grew, from 38.7 percent to 45.5 percent.
"During Tom Crean's years, IU basketball has been a revenue juggernaut," said Ryan Brewer, an IU finance professor based at the Columbus campus who has been studying college sports finances and valuations since 2009. "The [IU] head coaching decision [was] not as clear-cut as perhaps many fans might think."
But there have been obvious signs of trouble this year that likely caused Glass to fire Crean.
"I have a lot of people tell me they're just not going to watch IU basketball anymore. They're finished," said Phil Isenbarger, who played basketball for IU from 1977-1981 and is now a partner in the local law office of Bingham Greenebaum Doll.
That's concerning for two reasons. Ticket sales and television exposure are directly linked to the team's economic engine, Brewer said.
One of Brewer's studies, which has been published in The Wall Street Journal, shows that 40 percent of a college athletic program's financial value is tied to the team's TV exposure and how the team performs in televised games. 
"It has an impact on brand and an impact on revenue, and without that exposure, both of those things are hurt," Brewer said. "So if people are tuning out, that's a concern."
But thanks in part to the cash-generating Big Ten Network, IU's athletic department is in solid financial shape.
It finished 2016 with revenue of more than $95.2 million, according to financial disclosures to the NCAA. That's up from $88.4 million in 2015 and more than double what it scored in 2007, the last year before the Big Ten Network began churning out cash to all Big Ten schools.
IU's athletic department has been in the black for 11 straight years, netting a seven-figure profit in 2016.
Athletic department contributions also look healthy, according to IU's financial report. In 2016, they were $20.1 million—the highest since 2004, when the NCAA started gathering such data.
In 2007, the year before Crean's hire, they were just above $9 million. That spiked up nearly $1 million during Crean's first year at IU and another $4 million or so in each of the next two years as Crean climbed out of a tremendous hole dug by former coach Kelvin Sampson. 
IU fired Sampson for NCAA recruiting violations and the NCAA heaped steep penalties on the program. The vast majority of players from the Sampson era either left or were kicked off the team. It took Crean three years to rebuild a winning program.
Giving to IU's athletic department peaked in 2010 at $18.5 million before leveling off for a few years, then growing since 2014—even though the anti-Crean movement started with the disappointing 2013-2014 and 2014-2015 seasons and gained steam in the last three years. 
Recently, "the students seem to have checked out," WNDE's Schultz said. "I attended IU during the Mike Davis era and the balconies were never empty then—despite the ups and downs—like they've been this year."
Mike Davis replaced Bob Knight as head coach in 2000 and had six topsy-turvy seasons until his dismissal in 2006.
And, Schultz added, "The people that used to support Tom Crean [began] saying, 'I just don't care.' That kind of apathy can really be dangerous. Fred Glass has to be concerned about that."
Please enable JavaScript to view this content.