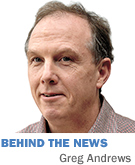 Simon Property Group shares have tumbled 26 percent since July and now are trading at their lowest point in 2-1/2 years. So is this a compelling time to scoop up shares in the nation's largest real estate company at a bargain-basement price, or is the market finally recognizing that the once-mighty mall's glory days have long passed?
It's no wonder shares have taken a tumble, given the drumbeat of negative headlines coming out of the national press as major retail chains, including Macy's and J.C. Penney, announce store closings, and others declare bankruptcy. Much of the coverage focuses on the growing threat from online retailing.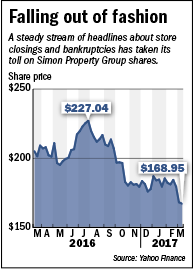 But many analysts think the concerns are overblown, especially for Simon, whose portfolio is dominated by high-end properties filled with affluent customers who view brick-and-mortar shopping as a pleasurable pastime, not a chore. It would be difficult for someone who visited Simon's Fashion Mall at Keystone on a typical weekend afternoon—and observed the throngs of smiling shoppers—to buy into the thesis that the sky is falling.
"High-quality retail real estate can overcome retailer instability," Stifel Nicolaus & Co. analyst Nathan Isbee wrote late last month, noting that only four of Simon's top 10 tenants when it went public in 1993 are still in business today. "Malls have constantly evolved in their 60-year history, and they will continue to evolve."
Isbee has a "buy" recommendation on Simon, forecasting that the stock, which now trades for around $169, might rise to $210. In fact, he's bullish in part because of the retailer instability—especially the opportunity to replace underperforming department stores with an eclectic mix of restaurants, movie theaters and other entertainment venues that pay higher rent and boost customer traffic.
For instance, he noted that Sears, which has been in a long death spiral, leases space from Simon in about 30 shopping centers. He said Simon needs to re-tenant just four of those stores to replicate the income it gets from all those stores now.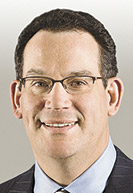 Simon
That's not to dismiss the challenges facing retailers, many of which are ailing. "I'm not going to sugarcoat it," Simon CEO David Simon said on a conference call with analysts on Jan. 31. "The retail environment is not robust. It's dog-eat-dog right now."
Yet Simon said some of retailers' woes are self-inflicted. "What we would like to see from the retail community is a dedication back to improving their store environment. We think a lot of the capital that has been put forward has been to chase internet sales," he said, even though profit margins for online sales are worse than those for brick-and-mortar locations.
Despite those challenges, Simon management has been "grinding" out solid performance, he said. Occupancy at the company's malls and outlet centers actually ticked up in 2016, reaching 97 percent, and net operating income climbed 6.7 percent.
One modest negative was sales per square foot, which slipped from $620 to $614—driven down, in part, by the negative impact of the high dollar on sales at malls and outlet centers reliant on foreign tourists.
The strong fundamentals demonstrate that "the Armageddon point of view" is "ridiculous," David Simon said at the Citi Global Property CEO Conference on March 6, though he acknowledged there was nothing he could do about it.
"It is what it is," Simon said. "We'll work through that like we have other things." The key to continued success, he said, is further investments to upgrade and expand existing shopping centers—a playbook that has served the company well for years.
"My number one goal is not to get people to buy the stock—it really is not," he said. "My number one priority is to make our product better however we can—lease it better, manage it better, invest in it."•
Please enable JavaScript to view this content.