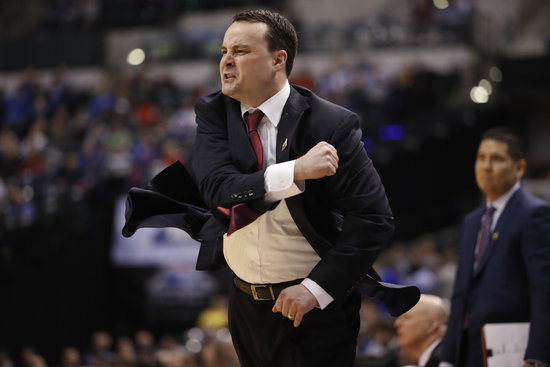 Indiana has hired Dayton's Archie Miller as its new coach.
The move comes less than 24 hours after UCLA coach Steve Alford said he wouldn't take the job and nine days after Tom Crean was fired after nine seasons.
Miller has spent the last six seasons as the coach at Dayton. He led the Flyers to a 139-63 record, the last two Atlantic 10 regular-season titles and NCAA Tournament appearances each of the past four seasons. Before going to Dayton, he was an assistant at Arizona, Ohio State, North Carolina State and Western Kentucky.
The school says it plans to introduce Miller at a news conference Monday afternoon.
"Archie Miller was on my short list from the very beginning," Glass said in a statement. "The more I learned about him, the more convinced I became that he is the coach we need to meet our high expectations for many years to come."
IU Athetic Director Fred Glass led the search for Crean's replacement and observers said the decision will likely define his tenure at the school, despite huge accomplishments in fund raising and building construction.
Big IU donors had been complaining about Crean for at least a couple years but the pressure on Glass ratcheted up in the past few months.
But the decision to hire Miller may quiet critics, at least for now.
Miller's older brother, Sean, coaches at perennial powerhouse Arizona, and the younger Miller is considered one of the brightest young coaches in America.
"IU is one of the greatest basketball programs and academic institutions in the country and I cannot wait to get started," Miller said. "With peerless fan support, outstanding facilities and tradition, a beautiful campus, and located in one of the most fertile recruiting areas in the country, IU is a dream destination for me and my family."
Miller's teams are known for their disciplined, hard-nosed play. Glass also dubbed Miller a tireless recruiter in the Midwest and a "noted developer of talent."
Indiana fans wanted all of those features in their new coach—and expect postseason success, too.
Alford, a former Indiana star, might have been a candidate for the job, but he reiterated Friday night that he wanted to remain at UCLA.
The move comes at an opportune time for Miller. The Flyers are losing at least five players from the school's incredible four-year run.
"We did everything we could to keep Archie at UD, but now our sole focus turns to continuing to build the quality of our nationally competitive program," athletic director Neil Sullivan said in a statement.
Before taking the Dayton job in 2011, Miller worked as an assistant for his brother at Arizona and as an assistant under Thad Matta ta Ohio State. He also has been an assistant at Arizona State, North Carolina State, his alma mater, and Western Kentucky. And he worked on the staff with USA Basketball's under-19 team, which won the FIBA world championship gold medal in 2015.
Miller's father, John, coached in high school.
Sean, Archie and Lisa Miller all played Division I basketball, and now it's the youngest of the three children who finds himself leading a program that has won five national championships.
"I cannot wait to connect with former players, current players, and future players and all of Hoosier Nation," Miller said. "I want to thank all of the great people and players at the University of Dayton who have supported me along the way. I look forward to outlining my vision for IU basketball."
Please enable JavaScript to view this content.