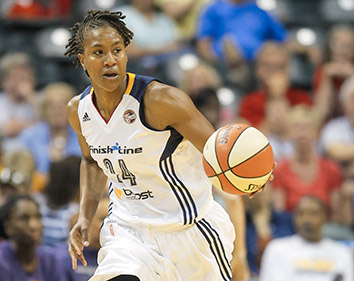 WNBA superstar Tamika Catchings hasn't had much downtime since playing her final game for the Indiana Fever last September.
Catchings has become an analyst for ESPN's SEC Network. She's held speaking engagements. She's traveled the country for her Catch The Stars foundation to empower children.
And last month, Catchings—who earned WNBA Defensive Player of the Year five times and won Olympic gold four times in her 15-year career—made a move that seemingly diverges from her athletic career: She bought Tea's Me Cafe, 140 E. 22nd St., on the north side.
"It fits," Catchings said. "People that know me know that I drink a lot of tea."
When she says a lot, she means a lot. Hot or cold, it's her beverage of choice. She and her sister Tauja grew up drinking tea with their mother.
Catchings started going to Tea's Me when it opened a decade ago. So when she heard late last year that owners Stacey and Wayne Ashford were planning to close the cafe to move south, Catchings was devastated.
"I was like, 'Oh my God, no way,'" Catchings said. "That next week, every single night I dreamed about it in some capacity, whether I was walking by or having a meeting."
She couldn't stop thinking about the cafe closing. Then she thought about keeping it open.
She talked about it with her sister, then her husband, Parnell Smith. Then she started talking to Wayne Ashford before working out the numbers with her husband.
They closed on the sale for an undisclosed amount Feb. 16.
"He wasn't just going to sell it to anybody," Catchings said. "And so here we are."
The Ashfords, who plan to open a new tea shop in Georgia during their semi-retirement, said they feel comfortable leaving the shop they consider "an extension of the family" in Catchings' hands.
"That's why it was kind of a no-brainer once we started having a dialogue about this," Wayne Ashford said. "I couldn't think of a better person, absolutely."
Catchings doesn't plan to change much about the 1,200 square-foot cafe because she loves what it is.
It will be open longer, though: 7 a.m. to 3 p.m. Monday through Saturday. She'll introduce some local artwork on the walls, add some retail (like candles and journals), and bring in local spoken-word poets and other performances. Eventually, she plans to franchise Tea's Me and develop her own blend, likely called "Tamika's Tea."
Catchings is aware her name is a draw, but she's not interested in hanging sports memorabilia on the walls. For her, sitting in the quiet tea shop after spending so many years in an athletics-dominated environment provides a welcome change.
Her jersey number, No. 24, will appear in new signage out front, but that's about it.
"I don't want it to be the focal point," she said. "But I do know people are going to hold me to a higher standard."
When Tea's Me opened 10 years ago, there wasn't much else in the area between the Herron-Morton and Fall Creek Place neighborhoods. Now, Shoefly Public House is next door. A block east, The Delaware Apartments boast swanky urban living above the MashCraft on Delaware brewery tap room, a dentist's office and LongBranch Chinese restaurant.
It's the right time to own a business in the neighborhood, Catchings said.
"It looks nothing like what it looked like 10 years ago. It's booming," Catchings said.
Although Tea's Me's business won't be interrupted, Catchings plans to hold a grand re-opening from 11 a.m. to 3 p.m. April 8. In the meantime, she's learning from Wayne Ashford how to talk tea, transitioning into her role and figuring out how much of a day-to-day presence she'll have in the shop.
"I'm one of those passion people. When I'm all in, I'm all in," she said.
Please enable JavaScript to view this content.