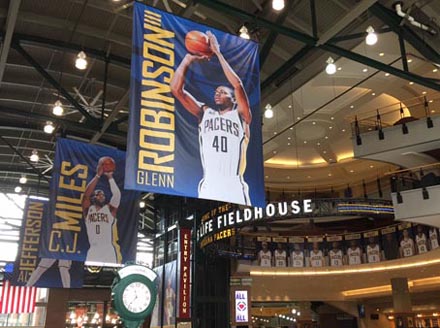 Lawmakers are working on new tax incentives for the National Basketball Association that would help position the Indiana Pacers to host a future NBA All-Star Game in Indianapolis. 
The Indiana House on Tuesday voted in favor of a bill that would exempt the NBA from all state and local taxes related to property, revenues, expenditures and transactions associated with planning for or holding the All-Star Game and related events. Senate Bill 515 now moves back to the Senate, where lawmakers will consider provisions—including the NBA language—added by the House.
In December, NBA Commissioner Adam Silver told IBJ that he endorses the idea of bringing the event to Indianapolis. And last year, officials from the Pacers, Visit Indy and the Indiana Sports Corp. attended the All-Star Game in Toronto to learn about its operations.
Pacers officials have projected that 2021 could be the best year for Indianapolis to host the game, which could result in more than $60 million in visitor spending and $100 million in economic impact.
The nonpartisan Legislative Services Agency said it could not determine the fiscal impact the proposed NBA tax breaks would have on the state. But the bill's author, Sen. Brandt Hershman, R-Buck Creek, said he estimates that if the city hosted the game the change would cost the state less than $1 million.
Hershman said the Indiana Sports Corp. asked that the Legislature approve the provision, which he said is something of a prerequisite in order to compete to host the All-Star Game.
"This is a fairly common request from professional sports [organizations] when they bring large, high-value, high-visibility events to a community," Hershman told IBJ.
"It's one of those things where I kind of hold my nose at the whole thing because I'm not certain the professional sporting leagues need any financial assistance," he said, "but it is essentially a condition on their part to bringing these types of events to the community."
The Indiana Sports Corp. did not immediately respond to IBJ's request for comment.
The break is related to "anything the league would purchase in conjunction with their bringing the event here," Hershman said. "It gives them a little incentive."
The Legislature passed similar tax breaks for the Super Bowl and NCAA men's and women's Final Four tournaments, and Hershman said he believes the attention Indianapolis received in return for hosting those events was worth it.
"I think most people felt [that] was worth a small giveaway," Hershman said, "and I think they feel similar about the All-Star Game."
Please enable JavaScript to view this content.