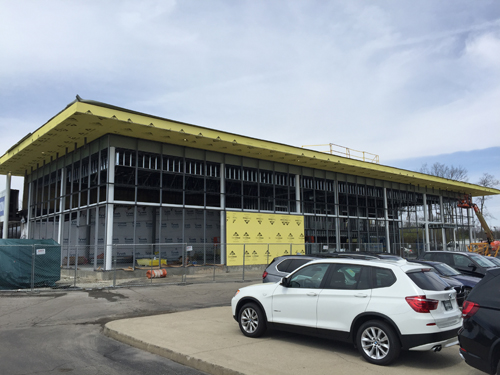 The year-long renovation to Dreyer & Reinbold's flagship BMW dealership on the north side is nearing the finish line.
Work should wrap up in June, which can't come soon enough for owner Dennis Reinbold.
"Construction is always a disruption to what you're trying to accomplish in business," he said. "But we have a good attitude about it. You just have to make the best of circumstances and understand it will be better with the end product."
An addition to the dealership's service department and expansion of the showroom are part of Dreyer & Reinbold's larger effort to improve its three north-side dealerships, grouped together northwest of the intersection of Keystone Avenue and Interstate 465.
Reinbold estimates the company has spent "millions" on the project, which also included expanding the showroom of the Infiniti dealership to the west of the BMW property and adding a service and parts department to the Mini Cooper dealership to the north. Mini cars previously were serviced by adjacent BMW mechanics.
Reinbold declined to specify the total investment.
Dreyer & Reinbold built its north-side BMW dealership in 1986, moving from West 71st Street. Reinbold had added onto the building several times before deciding to start over.
The new one will be two stories, with office space and a conference room above, and will be larger and more spacious than the previous layout of two separate showrooms.       
For the moment, Reinbold and his staff are making do from a temporary office facility in the front lot that more closely resembles a "doublewide."
"It puts us right out among the inventory and the car displays," he said, "so it's pretty convenient from that perspective."
Reinbold's investment in the dealerships come as they continue to post steady growth since rebounding from the recession.
An expansion of one of Dreyer & Reinbold's south-side car lots is in the works as well, ensuring that he'll be enduring more construction for months to come. The company operates BMW, Infiniti, Subaru and Volkswagen dealerships on 8.5 acres along U.S. 31 in Greenwood south of Smith Valley Road.
In the fall, Reinbold will embark on an expansion of the Subaru showroom and service department to keep pace with demand for the Japanese brand. Sales have doubled in the past four years, Reinbold said, as the automaker experiences a U.S. sales boom.
"After Subaru, I'm ready for a little break," Reinbold said of the construction.
Reinbold's parents, Dick and Dee Reinbold, started the BMW car dealership in 1968 on West Washington Street next to the Dreyer Cycle shop, where Reinbold's grandfather, Floyd "Pop" Dreyer, sold Honda and BMW motorcycles. Dreyer Motorsports still exists today.
On the racetrack, Dreyer & Reinbold Racing once again this year has driver Sage Karam piloting its IndyCar entry.
Please enable JavaScript to view this content.