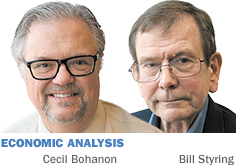 Bill Gates, founder of Microsoft Corp., is the wealthiest man in the world. In addition to practically inventing modern software systems, he shares his opinions with the world. Of course, when you are worth $85 billion, people listen. In a recent pronouncement, Gates called for a tax on robots.
The argument is straightforward: Robots are on the verge of replacing humans in the workplace. Not only will Rosie the Robot of "The Jetsons" fame replace cleaning ladies, but C-3PO-like gadgets are on the verge of replacing truck drivers, college tutors and maybe even economics columnists. Egads! Maybe it is a good idea to slow things down and raise some revenue for those losing out in the transition.
However, before Bohanon and Styring jump on the robot-tax bandwagon, they recall having lived through other fear-of-automation manias. An oldie but goodie recently available on Netflix is the 1957 Spencer Tracy/Katharine Hepburn film "Desk Set". Hepburn is the head of the all-female research department at a national television network while Tracy is a tech geek who has developed a super-computer that seems destined to replace Hepburn and her staff.
Tracy's invention, the EMERAC "Electromagnetic Memory and Research Arithmetical Calculator," works like a Google search engine. It gives accurate answers to most questions in a fraction of the time it takes the research librarian using Dewey Decimal cards. Hepburn's sharp wit and deep stores of knowledge are no match for EMERAC. (No plot spoiler here.)
Yet the film's prophetic vision misses the mark. Like almost all "machines-replace–the-humans" plots up until at least the 1990s, the vision was of a very, very big machine that sat in place and did the task of humans. What was not envisioned were personal computers, coupled with linking software, all on a universal platform that expanded employment productivity and opportunities. Thank you Steve Jobs, Bill Gates and the internet.
Yes, the technological innovations of the last 60 years have replaced some jobs, but they have created new jobs that were unimaginable in 1957. No more elevator operators in Manhattan office buildings, but better-paid building engineers. No more office mail boys, either, but better-paid software engineers and website designers.
Technological progress works that way. We can see the jobs we will lose, but what we don't see or can hardly imagine are the opportunities that open up. We bet the robot revolution will be no different.•
__________
Bohanon is a professor of economics at Ball State University. Styring is an economist and independent researcher. Both also blog at INforefront.com. Send comments to ibjedit@ibj.com.
Please enable JavaScript to view this content.