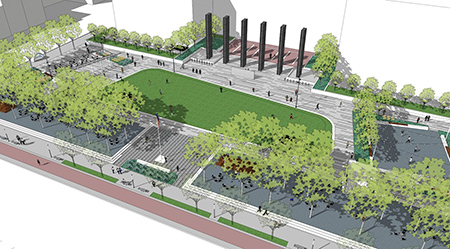 The folks in charge of the long-planned revamp of the Indianapolis City-County Building's plaza—a half-block of underused pavement—could be forgiven for being a bit anxious just now.
After picking a redesign scheme in 2014 that proved too expensive to execute, they have a new layout—one boasting an interactive fountain and an event lawn accommodating up to 1,500 people—that looks as if it might pass muster.
But no one will know for sure until the project's yet-to-be-selected contractor prices it out, determining whether the plaza's transformation into an amenity-rich people magnet can be accomplished within the scheme's approximately $9 million budget.
"We're only as good as what the contractor bids for the project," said Kevin Osburn, president of Rundell Ernstberger Associates, the Indianapolis-based urban design firm responsible for the plaza's latest, apparently less-pricey rethink. "We'll go through the bidding process in about a month, and we'll see what kind of bids we get."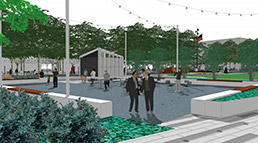 A street-level rendering of the plaza plans shows an entrance to the underground parking garage as well as tables where government employees could eat lunch. (Rendering courtesy of Rundell Ernstberger Associates)
If the new plan gets the green light, work will begin this summer and be completed in a year. And not a moment too soon. The space is pocked with broken concrete, and its electrical connections, plumbing and sewer infrastructure haven't been touched since the City-County Building opened in 1962.
Not that the crumbling expanse of concrete and its immense, granite-lined
plant receptacles have ever been much to brag about. The space occupies the former footprint of the storied Marion County Courthouse, which was bulldozed as construction wrapped up on the 28-story city-county government tower immediately to the north. The only remotely distinctive features are six free-standing columns representing the "pillars of justice."
As the 21st century dawned, that design hit its expiration date. Expensive repairs were needed, so city officials decided to go the extra mile and turn the plaza into a place where people might want to linger.
The city wasn't alone in that desire. Far from it.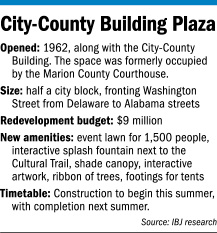 Bradford McKee, editor of Landscape Architecture Magazine, said turning barren, mid-20th-century "plazas" into people-friendly spaces is hot right now.
"People are really rethinking how valuable urban land is—especially in busy downtowns," he said. "They're trying to take spaces where people either don't go or just pass quickly through, and turn them into places to stop, linger, have lunch, maybe bring their kids."
But he said there's also a tendency to try to pack more into them than common sense—and municipal budgets—allow.
"There's definitely a trend toward over-programming some of these parks," McKee said. "There's a lot to be said for just picking one or two things you really want to do, and going with that."
Grand plans
That's not how things worked out in April 2014, when then-Mayor Greg Ballard announced a competition to come up with a design to turn the plaza into "an enhanced downtown open space."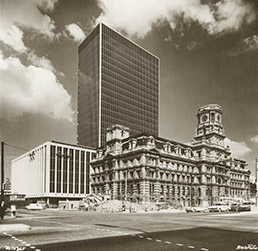 The second Marion County courthouse, built in 1877, was demolished in 1962 to make way for the plaza that would become the front yard of the just-completed City-County Building. (Photo courtesy of Bass Photo Co. Collection, Indiana Historical Society )
That contest, which drew 23 proposals, was won by Baltimore-based Design Collective. Its scheme offered everything but the kitchen sink—including a massive water feature, skating rink, game area and presentation platform. Actually, it did throw in the kitchen sink, because there was also to be a full-service, free-standing cafe.
This bounty of amenities left some of the losing bidders, REA included, scratching their heads.
"I actually liked the previous design," Osburn said. "But I wasn't surprised by the [construction] bids they received for that project. Because it was very nice, but it certainly wasn't designed to meet the [$10 million] budget that we were given."
Indeed not. Contractors bidding for the job priced it at $16 million to $17 million. After spending months trying to jigger the original scheme to get the cost down, the Design Collective proposal was abandoned. In August 2016, the city issued a new request for proposals, and last fall the Department of Metropolitan Development—in collaboration with the Indianapolis-Marion County Building Authority and consultant Core Planning Strategies—chose REA's design.
The city had several goals in mind for the second go-round: Reuse the six imposing granite pillars near the entrance; add shade trees and seating; and make space for temporary events, press conferences and announcements. Oh, and don't go over $9 million.
"We just knew we wanted those things, and that we had a budget," said Lindsey Richardt, DMD's chief communications officer. "From there it was like, 'Come up with something really thoughtful and attractive and engaging.'"
And also something that didn't create new problems for the plaza's already problematic infrastructure. The entire expanse perches on the roof of the City-County Building's underground garage, which means the redesign couldn't be ridiculously heavy or expose a lot of roof during reconstruction. Any portion of that roof exposed to the elements would have to be re-waterproofed—an expensive proposition.
Scaling back
REA hopes to make its numbers work by jettisoning several features that broke the bank for the previous design. For instance, a very large water feature would have required a massive storage tank to be installed on the garage's lowest floor, necessitating extensive piping and pumps to get the water to the surface. In addition, putting in a cafe meant planting a full-scale building on the garage roof's groaning shoulders.
The REA design nixed those elements in favor of, among other features, a much-smaller splash fountain; a grass-covered event lawn; a ribbon of trees along Washington Street; and a solid raised base that can serve as a platform for public events. The platform will be built up using granite recycled from the immense planters.
"We're upcycling it, if you will," said Pete Androit, REA principal and plaza project manager.
Building up instead of digging down is a key design point, because, depending on location, there's only three to six feet of cover over the garage roof.
"What we're doing in a lot of the lawn and landscape areas is to actually build up, so that we're not working off the existing sidewalk grids," Androit said. "The lawn area will kind of slope up from the sidewalk. But there's also an area along Washington Street where it will be level and easy to walk onto."
Osburn added: "Dealing with the depth issue has been a big driver of everything we're doing. The heaviest part of any project is the dirt. We won't have nearly as much [as the previous design]. This is a very rough guess, but I think we'll reduce that weight by a quarter to a third. We believe that what we're proposing will weigh significantly less than the loads that are there today."
REA has done municipal parks all over the country, and pegs the plaza project as in the "small to middle" range for price and size. But for complexity it ranks right up there with the big boys.
"I would say our design solution is unique, because of all the particular constraints and elements within the plaza," Androit said. "The individual issues are things you can find anywhere, but the combination that we have at the City-County Building is unique among the urban parks that we've done."
Osburn, who's lived downtown for 18 years and raised a family there, thinks demographic trends will push more developments like the plaza. Millennials and baby boomers are moving back to urban centers, morphing downtowns into neighborhoods. To accommodate, cities need viable park spaces.
"That's what the City-County plaza can be," he said. "Cities all across the country are making these exact same investments. Honestly, some are making much larger investments than we're making here. But it's a start."•
Please enable JavaScript to view this content.