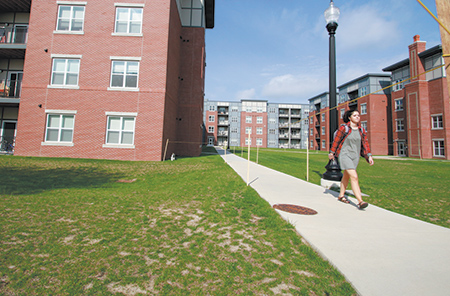 Robert Manuel has become highly educated in real estate development since arriving almost five years ago as president of the University of Indianapolis.
The experience he's gleaning comes not from the classroom but from his efforts to transform the liberal arts college into a south-side anchor by pursuing $50 million in building projects he hopes will attract private investment to an area littered with abandoned buildings, industrial properties and used-car lots.
Nestled in the University Heights neighborhood, the private school of 5,600 students historically has been an institutional island in a sea of working-class homes cut off from the affluence of downtown.
Manuel, 49, set out to change that and is starting to have some success. The aim is to make the area around the heart of the campus at Shelby Street and Hanna Avenue a true destination by drawing more students and outsiders there, and giving it an identity.
"We can't develop the whole area ourselves," Manuel said, "but hopefully the spark we've created will bring in private development."
The university is making early progress by partnering to build apartments on Shelby Street, by adding a summer semester that helps keep the campus humming year-round, and by developing a health sciences center where area residents can receive services.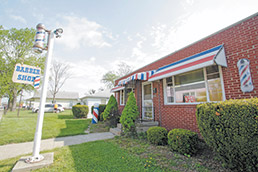 Bryant's Barber Shop has operated just south of Shelby Street and Hanna Avenue since 1969. Owner Tom Bryant has recently received offers for the property.
(IBJ photo/Lesley Weidenbener)
The changes under Manuel's leadership are welcomed by Tom Bryant, who has operated Bryant's Barber Shop just south of the Shelby-Hanna intersection since 1969.
It's an area pocked with poverty. Within a mile radius of the university, the median household income is $31,562, well below the $54,149 for all U.S. households, according to U.S. Census Bureau data. Further, nearly 50 percent of the homes in the area are rentals, while 12 percent sit vacant.
But Bryant, 72, is beginning to see encouraging signs—most recently in the form of offers he's getting from apartment developers for his barbershop and the two homes he owns to the north. He declined to provide details for fear of weakening his bargaining position.
"Things are im-proving around here," Bryant said. "The college is very, very good for the community. I can't say enough for it."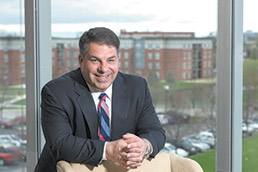 UIndy President Robert Manuel is five years into his community-revitalization strategy, dubbed Vision 2030.
(IBJ photo/Eric Learned)
Manuel arrived in July 2012 from Georgetown University in Washington, D.C., where he was associate provost and dean of the School of Continuing Studies. He learned about Indianapolis from one of the city's biggest supporters—former Mayor Bill Hudnut, a resident of the area whom he recruited to teach a course on urban planning.
"I couldn't believe what he was saying about this place I'd never been to," Manuel said.
Soon after, a headhunter approached Manuel about the UIndy president's vacancy. Upon landing the job, he began spearheading a strategy, dubbed Vision 2030, to guide the school's future.
The plan entails spending $50 million over five years on major construction projects and educational programs. Dovetailing with that is a quality-of-life plan for the entire neighborhood that the Local Initiatives Support Corp. helped put together.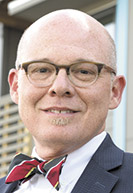 Taft
"When they did their strategic plan, the university recognized the fact that they're the most significant economic driver in that area," said Bill Taft, LISC's executive director. "They're going to have to take a leadership role in that. Before Rob was there, I don't think they saw it that way. I think they were more focused on themselves."
The effort began with a partnership between UIndy and Community Hospital to build the $22 million health sciences center at Hanna and State avenues adjacent to the campus. The center opened in August 2015 and provides health and wellness services to the community while giving students clinical experience.
A one-mile walking path that begins at the center and loops the campus has been beautified thanks to a $450,000 Community Development Block Grant the university received. It plans to use $125,000 of the grant to build a pocket park along the loop.
UIndy followed up the health and wellness center by partnering with local developer Strategic Capital Partners to build the $25 million Greyhound Village student-housing project at Shelby Street and National Avenue.
The four-story apartment building opened in August and created a new housing option for up to 487 students. The units are fully leased, Manuel said.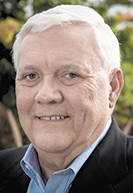 Zink
Strategic Capital CEO Gene Zink, who had spent more than 20 years at Duke Realty Corp. as a top executive before founding his company in 2005, knew little about UIndy before Manuel's arrival.
He said Manuel sold him on his vision.
"The challenge, of course, is historically the south side hasn't had a lot of that type of development, so the market studies aren't overly positive," Zink said. "But with an institution like UIndy, more retail will come and more amenities will come pretty quickly."
Greyhound Village replaced a dated, 60-unit campus apartment complex and an adjacent row of aging duplexes, which together housed 175 students.
The project is significant for the university because of its location on Shelby Street, which connects the campus to the nearby Garfield Park and Fountain Square neighborhoods.
Even more important, the proposed rapid-transit Red Line route through Marion County will run along Shelby to the campus.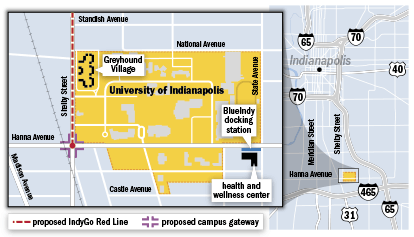 School officials see the Red Line as critical to linking the university with downtown, especially since UIndy's first attempt to establish a presence there failed. The school had wanted to display arts programming as part of the 21c hotel project that fizzled before construction started. Old City Hall would have housed the hotel's lobby and a contemporary art museum with free admission.
Beyond the school's two major construction projects, the university has undertaken less-visible initiatives to help establish the campus as an anchor.
UIndy created a homestead loan program to bring faculty and staff back into the surrounding University Heights neighborhood. The interest-free loans, capped at $5,000, are forgivable if the employee stays in the home at least five years. About 15 people are taking advantage of the program this year, Manuel said.
The university also added summer as a third semester to build year-round activity. UIndy is complementing that effort by opening all school events to the public.
In March, for instance, the Christel DeHaan Fine Arts Center hosted the Indianapolis String Quartet and drew 650 spectators—a much larger number than what the venue normally would draw, Manuel said.
The next step is to attract private development without university assistance, preferably at the intersection of Shelby and Hanna, to create a gateway to the campus.
Manuel is confident it will come.
"Absent the strategic plan, I'm not sure people would have invested in the area," he said. "Now, there's proof that the possibilities work."•
Please enable JavaScript to view this content.