Atop the roof of the four-story Greenwood City Hall, Mayor Mark W. Myers surveys the south-side suburb's downtown, imagining what could be if his plans to re-energize it with massive development are realized.

Known as Old Town, the city's core—mostly contained to the intersection of South Madison Avenue and West Main Street—is beginning to show signs of activity after years of dormancy. The popular Revery restaurant began serving patrons in 2014, and last November, the Planetary microbrewery tapped into the craft-beer movement by opening there.

But Greenwood's downtown, which long ago gave way to development along the U.S. 31 corridor, isn't pedestrian-friendly, as evidenced by the cars that whiz through the stoplight at Madison and Main. It's a shortcoming that limits its appeal to millennials, who favor walkable, dense neighborhoods.

Myers, 54, is out to change that.

"I've seen what other communities are doing, in terms of building more density," he said, "so we came up with this master plan."

The second-term Republican hopes to take a page from the playbooks of Carmel and Fishers, which have drawn more residents downtown by creating a commercial and residential hub.

Greenwood's plans call for adding 450 apartments and 130 townhomes within 10 years.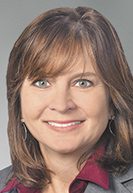 Haynes
Jacqueline Haynes, a retail broker at Cushman & Wakefield in Indianapolis, and a Greenwood resident since 1998, wants to see it happen.

"Greenwood needs to get on the bandwagon to sustain and retain young growth in the community," she said. "It's long overdue."

The city plans to spend $30 million to upgrade sewers and roads and to build an underground parking garage where the city parking lot at the southwest corner of Madison and Main sits just north of City Hall.

Private developers would build a mix of apartments and retail shops above the parking garage and to the west of City Hall on a 1-1/2-acre parcel now occupied by a used car lot, if the city can persuade the owner to sell.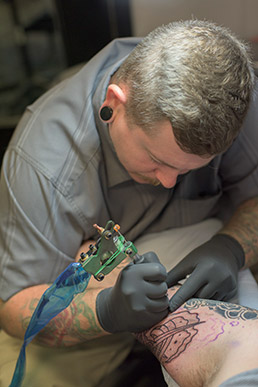 Eric Lee's Two Twenty Two Tattoo at 308 W. Main St. was one of the beneficiaries of Mayor Mark Myers' $1.6 million facade-improvement program. (IBJ photo/Eric Learned)
Perhaps the biggest piece of the puzzle, however, is the 19-acre Greenwood Middle School site at 523 S. Madison Ave., south of Main Street and City Hall. The city agreed in January to pay $1 million to buy the site for redevelopment.

The Greenwood Community School Corp. is building a new middle school on Greenwood's southwest side that should be ready for school this fall.

"When the middle school was built in the 1950s, it wasn't even in the city limits," Myers said.

Greenwood's population in 1960 stood at just 7,200, but had grown to 26,000 by 1990, as many Indianapolis residents pursued suburban living. By 2010, the population was nearly 50,000 and topped 55,000 five years later.

Winding road

Myers has seen the changes firsthand.

He was born and raised in Greenwood and is following in his father's footsteps. Lawrence William Myers served as the city's mayor from 1976-1979, and operated Myers Ambulance Service, where the younger Myers worked for several years.

His own path to the Mayor's Office is chock-full of interesting career choices. He was a member of the Greenwood Volunteer Fire Department and a 14-year member of the Greenwood Police Department, serving as a full-time police officer and detective. In 1992, Myers was elected Johnson County coroner.

From 1997 to 2002, he served as a missionary and as director of security for the U.S. Embassy in Paraguay.

Most recently, before his election as mayor in 2011, Myers worked at a consulting firm specializing in construction safety.

His message to keep the historic element of Old Town intact resonated with voters. He ousted the four-term incumbent, Charles Henderson, who had proposed demolishing several of the structures and rebuilding.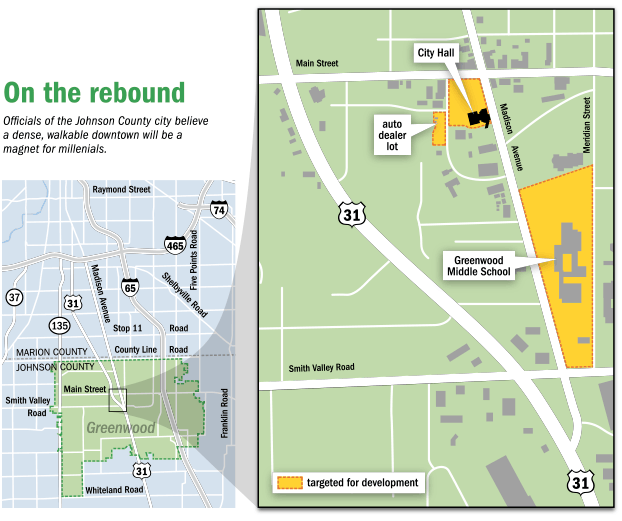 "The prior administration was threatening to tear down the buildings," Myers said. "Why would anyone in their right mind invest in a building that's going to be torn down?"

The uncertainty was evident in the 75 percent vacancy rate for office and retail space downtown, which has since improved to a mere 10 percent, Myers said.

Ezra Hill, a Greenwood common councilman whose district encompasses Old Town, is ready for the change.

"I feel like taking the entire downtown and revitalizing it—it's an added amenity to the city," he said. "It gives people in the city a place to go so they don't have to go [to Indianapolis'] downtown or to the north side."

Myers took his first step toward reinvigorating downtown three years ago, when he moved City Hall from a 96-year-old building at 2 N. Madison Ave to a building a block south that was last occupied by the former National Bank of Greenwood.

The historic building formerly occupied by the city has been sold to a private developer, which is renovating and leasing it to Cornerstone Autism Center.

Myers followed up with a $1.6 million façade-improvement program, which included a $400,000 grant from the Indiana Office of Community and Rural Affairs, to improve downtown storefronts. Owners of 22 of the 33 downtown buildings participated in the program, including Eric Lee of Two Twenty Two Tattoo at 308 W. Main St.

Lee, 34, who began gutting the building in 2015 and is in the process of buying it, has mixed feelings about the city's redevelopment plans. He's nervous about the hardships construction can have on business and about the prospect of losing the surface parking lot across from his shop.

"They want to be the Carmel of the south," Lee said of city officials. But he added that he's thankful for the city's infrastructure investments because business owners "can't buy what they're trying to do. The whole point is to make us more money."

More ahead

An extension of the façade program is the GROW Greenwood Initiative, or Granting Revitalization and Opportunity for the Workplace. The $500,000 matching grant program offers local businesses matching funds to restore or enhance exteriors.

Next up is a $7 million push to widen sidewalks along Madison Avenue, which runs north-south through downtown, to make the area more pedestrian-friendly. Installing an esplanade down the middle of the street and adding bike lanes are part of the plan. The initial phase would focus north of Main Street, stretching from Pearl to Noble streets. Construction is expected to begin next year.

A timetable for redeveloping the Greenwood Middle School property is more fluid, since the city only signed the deal to purchase the site in January.

But developers are beginning to kick the tires, Myers said.

"I'm pretty excited by the amount of interest we have already," he said.

A mock-up rendering of the property shows a mix of apartments, condominiums and town homes in several buildings, with a parking garage at the south end wrapped by storefronts on the ground level and apartments above.

The gymnasium building at the north end would be converted into a fitness center.

The city plans to put out a request for proposals and could select multiple developers to tackle different pieces of the project.

Infrastructure work could begin next year to prepare the site for redevelopment, said Myers, who expects the city will contribute incentives or financial assistance.

For Myers, who grew up just four blocks from Old Town, the progress so far and the possibilities that lie ahead keep him energized—enough to scale the ladder inside City Hall to give visitors a better view from the rooftop.

"I've seen it go from a thriving downtown to a declining downtown that pretty much was blighted, back to a thriving downtown," Myers said, "and it's very exciting to see."•