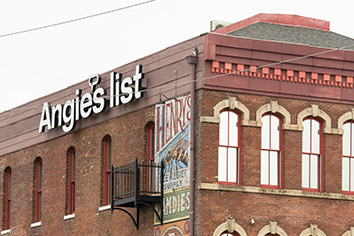 IAC, the New York-based parent company of HomeAdvisor, announced Monday afternoon that it has agreed to buy Indianapolis-based Angie's List Inc. in a cash-and-stock deal worth $505 million.
IAC said it will combine HomeAdvisor and Angie's List into a new publicly traded company called ANGI Homeservices Inc. that will be headquartered in Golden, Colorado, where HomeAdvisor is based.
The merged business will maintain both the Angie's List and HomeAdvisor brands, and IAC will own about 90 percent of the new company.
ANGI Homeservices Inc. "will offer unparalleled scale and product breadth to match homeowners with service professionals in the $400 billion domestic home services market," IAC and Angie's List said in a joint statement.
HomeAdvisor has about 156,000 service providers, which pay for their leads, and some 15 million service requests per month. Angie's List has about 5 million members, most of them free, and about 56,000 service providers, which buy advertising from the company.
The companies—which have a combined $822 million in annual revenue—said they expect to realize $100 million to $250 million of "annualized synergies" by the end of 2018, raising the specter of deep cost-cutting. However, HomeAdvisor CEO Chris Terrill, who will become CEO of ANGI Homeservices, told IBJ that employment levels are yet to be determined.
Angie's List employs roughly 1,500 workers, who are spread across downtown and the near-east side. Terrill, whose company has about 150 employees in downtown Indianapolis and previously announced plans to double that to 300, said he wants to be as "sensitive" as possible with current employees.
"Invariably, in any merger you have you do have some overlap," he said. "The good news is that we're growing, our goal is to give the Angie's brand a shot in the arm with some monetization that will be able to help them grow and see where that nets out."
Angie Hicks, who co-founded Angie's List in 1995 and is the company's public face and chief marketing officer, will join ANGI's board, according to the companies' joint statement. The release makes no mention of Scott Durchslag, a former Best Buy executive who joined Angie's List as CEO in September 2015.
The transaction finalizes a merger dance that began between the two firms in November 2015, when IAC offered to buy Angie's List for $525 million or $8.75 per share.The new deal values Angie's List at slightly less, $8.50 per share.
In after-hours trading Monday, Angie's List stock surged 42 percent on news of the deal. It was trading around $8.50 after closing regular trading at $5.89.
The deal comes after Angie's List announced in November that it was exploring "strategic alternatives," which usually is the equivalent to putting up a corporate for-sale sign.
For Angie's List, the sale is the bookend to a 22-year run marked by brisk national expansion, significant hiring, perpetual unprofitability and—ultimately—unhappy investors. The company's stock fetched about $15 a share after its November 2011 initial public offering and peaked around $28 a share in the summer of 2013, but has mostly traded below $10 a share since mid-2014.
Durchslag fended off IAC's first public offer, arguing in November 2015 that Angie's List had a promising future as a standalone company. But activist investors, including TCS Capital Management and Vajra Asset Management, ultimately influenced board changes that led to the departures of old-guard board members, including longtime Chairman John Chuang.
Durchslag in March 2016 rolled out his "profitable growth plan," a new strategy that led the company to lower its longstanding paywall in July, allowing consumers to access reviews for free for the first time. But in an apparent sign that the new strategy was not paying off as quickly as hoped, Durchslag in November announced that the company had hired investment bankers to explore ways of "maximizing value creation for our shareholders."
Durchslag revealed the move in a statement released with the company's third quarter earnings, which fell short of analyst expectations.
Angie's List, which generated $323 million in revenue in 2016, had seen quarterly revenue grow at a double-digit rate for more than three years after its initial public offering. But that rate downshifted into the single digits in the middle of 2015 and turned negative in the second quarter of 2016.
Company observers said Angie's List responded too slowly to a consumer base that became averse to paying for online reviews. Even as it spent millions on ads targeting consumers, membership growth started decelerating in 2012 and service provider growth followed suit.
Service providers account for more than 80 percent of Angie's List revenue.
Angie's List is one of the city's largest tech employers and is credited with helping revitalize the city's near-east side with its sprawling, multi-building campus.
IAC owns a range of internet and media businesses, from Dictionary.com to The Daily Beast. HomeAdvisor, its fastest-growing unit, racked up revenue growth of 27 percent in 2015 and 38 percent last year, lifting annual revenue to $499 million.
The sale to IAC would leave Indianapolis without a locally based, publicly traded tech company, following the $2.5 billion sale of ExactTarget to Salesforce.com Inc. in 2013 and the $1.4 billion sale of Interactive Intelligence to Genesys Telecommunications Laboratories Inc. last year.
Angie's List shareholders will have an option to receive shares in the new public company or cash, though the portion of the $505 million acquisition price that will be paid in cash is capped at $130 million.
The purchase is expected to close in the fourth quarter.
Please enable JavaScript to view this content.