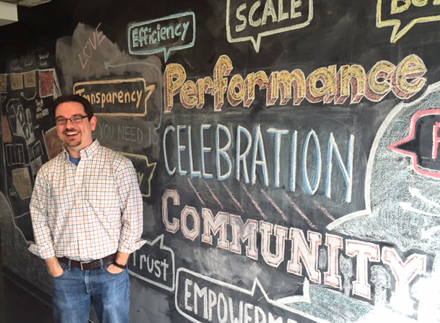 Dustin Sapp, who stepped down in January from his CEO post at software company Octiv, has joined another Indianapolis-based tech firm. But he'll work there remotely from another state.
Sapp, 38, has joined form-management software company Formstack as chief operating officer, a new position at the company. His start date was May 1.
But Sapp, his wife and four children are moving to Colorado in the coming months, he said in an interview, mainly for reasons related to his personal health.
Sapp co-founded Octiv, formerly known as TinderBox, in 2010. When he passed the reins to then-chief operating officer David Kerr in January, he said he was taking a sabbatical in part to "recharge my batteries for a bit."
At the time, he opted not to share that he had been recently diagnosed with a rare genetic disorder that factored into his decision. The condition is Birt-Hogg-Dubé syndrome, which is linked to collapsed lungs and other ailments. Following that diagnosis, he and his family decided to look for places to live that would better suit his health.
They settled on Colorado for its temperate climate and higher altitude, among other reasons.
"I don't want to give the impression that Indiana is an unhealthy state," Sapp said, adding that Midwest humidity and allergens were burdensome. "I don't know if it's [Colorado's] temperate nature or the thin air, but it makes a significant difference on my personal quality of life."
The Sapp family is moving to Monument, Colorado, toward the end of summer.
Sapp said he hadn't been actively looking for companies to work for, although some had reached out. As an adult, he'd never worked for a company he didn't help start, and he wasn't inclined to do anything different this time around.
But during his sabbatical he did informal advising with a few local firms, including Formstack. Sapp had known Formstack CEO Chris Byers for several years, and chats about Formstack's growth plans evolved into talks about how Formstack and Sapp could benefit from each other.
Soon enough, the choice for Sapp to join became a no-brainer. Formstack has a remote-first culture with employees scattered across the globe. So that aspect of the company fit nicely with Sapp's plans. Beyond that, Sapp said, Formstack's financials and growth prospects were impressive, and he wanted to help it achieve its goals.
"As I did my digging and my due diligence, Formstack is one of the healthiest [software-as-a-service] companies that, frankly, I've ever seen," Sapp said, noting that it has more than 15,000 customers. "They're one of the more successful SaaS companies in Indianapolis that people don't really talk about."
Sapp's prime duties as chief operating officer fall into two categories. First are the usual roles—overseeing HR, finance, legal and other administrative operations. But he'll also wear a "strategic growth" hat, which involves exploring partnerships, new markets and other initiatives that can help the company "grow at another level beyond the great organic growth they've had over the past number of years."
The latter role plays to his entrepreneurial background, he said. Sapp also noted that he'll continue to be involved in Octiv as an adviser and plans to make several trips to Indianapolis throughout the year.
"Being a non-native to Indiana and having invested as much as I have here, that would have been very difficult to walk away from," said Sapp, a Kentucky native who graduated from Rose-Hulman Institute of Technology. "And I'm very grateful to both Octiv and Formstack to give me the opportunity to continue to invest."
Please enable JavaScript to view this content.