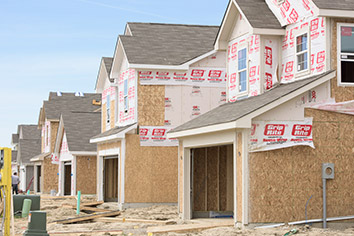 Filings for new homes in central Indiana rose 3 percent in April—marking the 20th monthly increase in demand over the last 24 months.
Home builders filed 561 single-family construction permits in the nine-county area last month, compared with 546 in April 2016, the Builders Association of Greater Indianapolis reported Tuesday.
Filings have risen on a year-over-year basis in three of the first four months this year. The only exception was February, when filings dropped 8 percent, snapping a 14-month streak of increases.
Overall, filing are up 2 percent so far this year compared with the first four months of 2016, from 1,833 to 1,871.
Filings were up 5 percent in Marion County in April, from 94 to 99.
Housing hotbed Hamilton County saw a 1 percent decrease, from 214 to 211.
Hendricks County filings shot up 17 percent, to 95, and Johnson County filings jumped 62 percent, to 68.
Filings dropped by 16 percent in Hancock County, to 36, and by 38 percent in Boone County, to 29.
Madison County saw filings drop from 10 to one. Morgan County reported 16 filings and Shelby County had six.
Please enable JavaScript to view this content.