Cristi Melson started Purrs & Gurrs 2-1/2 years ago with an idea and some fliers she distributed door to door. She
didn't have a formal business plan then and still doesn't.
"You don't always have to
go to a bank and take out a big loan," she said. "You don't always have to have a mind-boggling
business plan. What you need to have is passion, a belief in yourself, and the guts to take that chance."
That may not work for everyone, but it has for Melson, who's grown the business from
a dog-walking service to a full pet-care company with two stores and 31 employees. They sell holistic
foods, including treats they bake in the 116th Street store, and provide services that include grooming,
pet-sitting and more.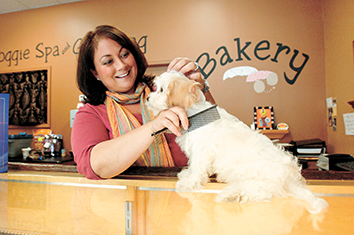 Cristi Melson, who studied veterinary science, married her love of animals with a business opportunity. (IBJ Photo/Robin
Jerstad)
Melson tells her story sitting on a comfortable leather sofa in her Olio Road store.
She'd been working in commercial real estate for locally based Colliers Turley Martin Tucker and
looking for something else after her son was born. She loves animals—she studied veterinary science at Rutgers University—and
thought something involving pet care might be the way to go.
While distributing fliers one day for her dog-walking
business, she saw a for-sale sign on a store called For the Love of Dogs. She bought the shop at 8795 E. 116th St. in Fishers
in February 2007, financing the purchase with a home-equity loan.
In the first year, business was up 67 percent
compared with the previous owner's final year.
A year later, a store called Pampered Pets was looking to
sell. She bought that business, too, using a small bank loan. The banker who helped her secure the loan was a Purrs &
Gurrs customer.
Now her clients had two places to buy supplies.
In taking over both stores, "I
wasn't going to try to reinvent the wheel," she said. "I was going to take what they did, evaluate where
they were lacking, and improve upon it."
So she didn't overstock. She listened to what customers
wanted and bought accordingly. You won't, for example, find Louis Vuitton pet carriers in the stores
anymore. Instead, there are healthy foods with names like Holistic Select and Innova, as well as toys
and other basic pet needs.
Knowing she can't compete price-wise with Petco, Petland
and other superstores, she decided to "offer what people want, offer it at a fair price, and educate,"
she said. "I don't have my money sitting on the shelves. I don't use credit terms–-I
pay cash for everything. If I'm not selling it, I don't need to buy it."
She also expanded
grooming hours from three half-days to seven days a week and four nights.
"Not everybody
can come in weekdays between 9 and 2," she said. "People work for a living, so you have to cater to that."
Early on, some employees bristled at the new hours and ways of doing business. Melson is the kind of person who
wants everyone to like her, so that was tough.
"I can't be everybody's
friend," she acknowledged, recalling advice she received from a customer: "'If you
can't fire your grandmother, you cannot own a business.'"
"And," she said, "he
was right."
Mike Miller, sales manager for Chart Pet Nutrition & Supplies
in Indianapolis, provides Purrs & Gurrs with pet food and other products.
"The best way
to sum up Cristi is: I've been in her stores and she makes it fun for customers and she's a fun person to do business
with," Miller said. "I think the customers enjoy buying from her because of that. Cristi's a success because
of her happy-go-lucky personality."
These days, Melson's biggest issue is time management. She has
the two stores and, earlier this year, bought a Higher Grounds coffee shop in the same strip mall as the Olio Road Purrs &
Gurrs. She rechristened that store Gourmet Grounds of Geist, a coffeehouse and café.
So she often finds
herself working seven days a week—she hired a personal assistant to help—and has delayed plans to open a third
store in Carmel.
"The kiss of death for a small business is two things: absentee ownership and growing
too fast," she said.
Melson said the best way to ensure success is to build long-term
relationships with her customers. So she makes time for them. Gretchen Neal, who lives in Fishers, started
using Purrs & Gurrs when it was just a dog-walking business. She now buys food and treats for her
yellow lab, Maggie, at Purrs & Gurrs, and still uses the dog-walking service.
"Cristi
always says yes," Neal said, "which is what you need."•
Please enable JavaScript to view this content.