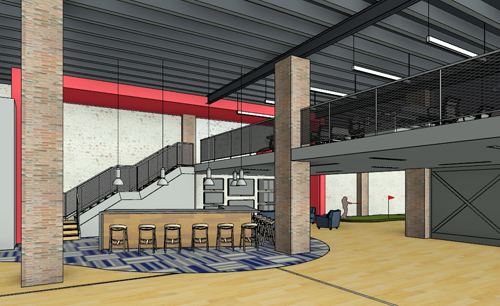 Former Indianapolis Colts punter Pat McAfee is taking 10,000 square feet of downtown loft space to launch Barstool Heartland, a startup media company and the local branch of Milton, Massachusetts-based Barstool Sports.
Barstool Sports is a satirical sports and men's lifestyle blog with a mix of pop culture. After joining Barstool, one of McAfee's priorities was to open multimedia studio space in Indianapolis.
The space, at 935 N. Meridian St. and about a block north of the Central Library, will feature television and radio studios, a basketball court, golf simulator, entertainment area and private editing rooms.
"We definitely wanted to do this in Indianapolis," McAfee said in a statement. "Bringing together cutting-edge technology, studio space and an interactive office environment will be something that's not all that common [in] downtown Indianapolis. Our goal is to attract the best talent not just in Indianapolis, but from across the country to come and work with us. We needed to create a space that encouraged the highest level of creativity. I think we nailed it."
Heartland expects to use the space to create myriad content, including video series, blogs, podcasts, movies, sitcoms and other forms of entertainment.
The office will feature 30-foot ceilings, exposed steel and wood beams, and newly installed skylights, in addition to brick walls and an open concept.
The space should be ready in early summer. Locally based Buckingham Cos. owns the building.
The cost of outfitting the space was not immediately clear. According to a media release, Barstool Sports is investing "a ton of money in the Heartland office."
McAfee, 30, played eight seasons with the Colts. McAfee will operate Barstool Heartland with Todd McComas, a retired Indiana State Police trooper.
They have hired 30 interns, who are expected to start work with the company in June, according to the release.
Please enable JavaScript to view this content.