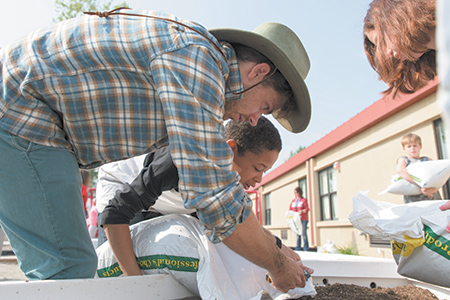 Stacy Coleman, a first-year principal at William McKinley School 39 in Fountain Square, can barely contain her excitement over a small piece of ground set aside to grow herbs and vegetables.
The 900-square-foot patch at the schoolyard is part of high-tech-millionaire-turned-restaurateur Kimbal Musk's network of learning gardens meant to help students learn about nutrition and healthy eating.
Similar Learning Gardens have been planted at roughly 350 schools in six cities across the country, with a goal of 100 in Indianapolis. It's all part of an effort to tackle nutrition problems in poor neighborhoods, not simply by giving students food but also by helping them understand why carrots are a better choice than potato chips.
William McKinley is among 15 schools in the city that so far have signed onto the project.
For Coleman, a vegan and self-proclaimed proponent of health and wellness, the garden is a godsend for her pre-kindergarten through sixth-grade students. Roughly 85 percent receive free or reduced-price lunches and some don't have access to fresh grocery items.
It's not uncommon for students to snag a bag of Hot Cheetos from the Village Pantry about a block away to serve as their snack or lunch, Coleman said.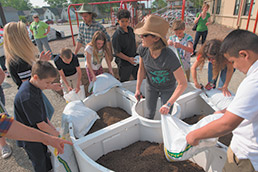 The Kitchen Community, launched by Kimbal Musk, plans to pay for the installation and upkeep of learning gardens at 100 schools in Indianapolis, including James A. Garfield School 31, where the group's Laura Henderson helps students fill the modular planters. (IBJ photo/Eric Learned)
"I'm all about [eliminating] food scarcity and making sure that our students have proper resources to get to fresh foods," she said. "And farm-to-table is something I'm interested in, too. [The garden is] right up my alley."
Fall and spring plantings should produce in the next few weeks a harvest of garlic, cilantro, snow peas and several types of lettuces.
Coleman's accounts of students eating junk food for lunch is exactly why Musk, 44, started the learning gardens program.
"High-calorie, low-nutrition food causes obesity and diabetes," he said. "Bring back an appreciation for real food, and [students will] make different decisions."
Musk, younger brother to high-tech entrepreneur and Tesla Motors CEO Elon Musk, co-founded Boulder, Colorado-based The Kitchen Community in 2011 to plant the gardens at schools.
In addition, Musk is a co-founder of The Kitchen restaurants, which focus on local cuisine and eco-friendly operations. The restaurants help support the gardens through fundraising activities and operate in Colorado, Chicago and Memphis, with two locations coming to Indianapolis.
Hedge Row is expected to open in August in Gershman Partners' new Marietta building on Massachusetts Avenue. Another Kitchen restaurant concept, Next Door, is slated to open in November at the southeast corner of East 46th Street and College Avenue in the former Double 8 Foods space, also owned by Gershman.
Gershman Partners is helping to support the gardens, Musk said, though the biggest donor is the Herbert Simon Family Foundation. The Kitchen Community needs to match the undisclosed amount of the Simon foundation's grant. The total cost to operate in a city—including planting and supplies for 100 gardens, staff salaries and garden maintenance—can run $5 million to $6 million.
"We are working very hard every day" to raise the funds, Musk said. "It's a lot of work for us, but we're up for it."
Though Musk started the learning gardens in 2011, their beginnings date to 2004, when Musk opened his first Kitchen bistro in Boulder. It was so successful that he began giving back in the form of gardens.
But the gardens, contained to a wood-bordered patch, fell apart over time. They became too expensive for the schools to maintain and they were often banished to the corner of a schoolyard, creating a model that made them difficult to succeed.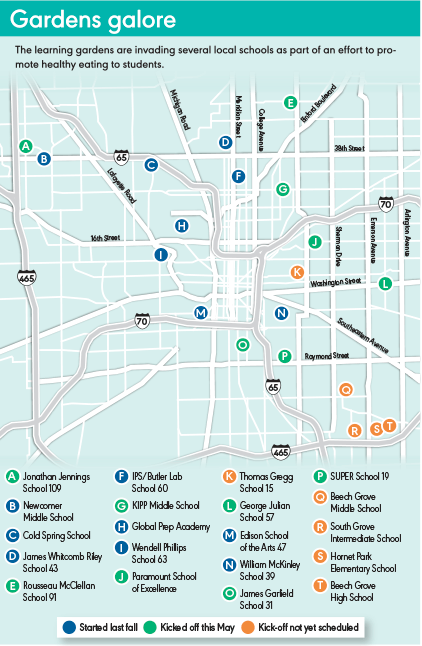 Musk began to devote more time and resources to the gardens following a 2010 skiing accident. He flipped off a tube and landed head-first in the snow, breaking his neck.
"While I was horizontal, I decided I didn't want to work on stuff that didn't have an impact," he told IBJ. "We have to do it right or we have to stop doing it and go on to something else."
The gardens are now designed to be right on the playground, where they will receive more attention, and in raised-up beds with irrigation systems underneath so they don't need to be watered manually every day.
The original intent was to take the gardens to large cities such as Chicago and Los Angeles. But the mission has changed.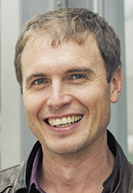 Kimbal Musk
"We've fallen in love with middle America, and they really want us to be there," Musk said. "We stopped growing in L.A. and began focusing on places like Indianapolis."
To that end, Musk is also taking the learning gardens to Pittsburgh.
Schools can decide what they want to plant in their gardens: fruits, vegetables, herbs, flowers or some combination of each. They also can decide what to do with their garden produce: Serve it in the cafeteria, sell it, or give it to students.
At the William McKinley School, the students can't wait to eat what they've planted, Coleman said. She has nearly full participation from students, who plant, weed and water the garden.
"It's very empowering for our students," she said. "They don't have access to fresh grocery items, nor have they ever tasted them."
The garden has prompted the school to take healthy eating to the next level. It's received a Fuel Up to Play 60 grant from the National Football League that's enabled it to buy more seeds and garden tools. And it's also partnered with the Whole Foods specialty grocery chain to start a cooking club.•
Please enable JavaScript to view this content.