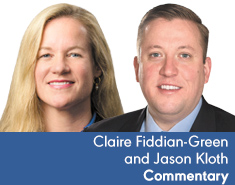 Across myriad industries—from health care to advanced manufacturing and technology—more workers are needed who have the skills and knowledge to fill available jobs in Indiana. Infusing these fields with talent would be a boon to our state, putting more Hoosiers to work and energizing Indiana's economic future.
But in one field, the stakes of solving our skills gap are especially high. Indiana has far too few licensed clinical social workers and other behavioral health professionals specializing in drug addiction treatment.
That hampers efforts to combat the opioid epidemic in a state where thousands of people are grappling with addiction—and hundreds are dying each year as a result. With every year we fail to expand the pipeline of specialists focused on addiction, we risk losing more Hoosiers who use heroin or abuse prescription drugs to overdose and death.
Thus far, we've failed to address the gap—so much so that Indiana now ranks 44th nationwide in the capacity to meet the medication-assisted treatment needs of our population, according to The Pew Charitable Trusts. At the same time, the opioid epidemic continues to ravage Indiana, with tremendous consequences.
Drug overdoses claimed more than 1,200 Hoosier lives in 2015, including 253 in Marion County alone. What's more, a report released last year by the Richard M. Fairbanks Foundation found lifetime medical and economic costs of overdose deaths totaled $1.4 billion in Indiana in 2014.
As a result of our addiction-specialist shortage, it typically takes one to three weeks to get a patient into treatment for addiction in Indiana. That's especially troubling because research has found 40 percent of people on a wait list for such treatment will drop off within two weeks. Long waiting times mean the small window of opportunity to assist people struggling with addiction who have decided to enter into treatment is more likely to close.
Addressing the workforce gap in addiction treatment would literally be life-saving, and it needs both a heightened sense of urgency and a bold solution.
Recognizing this, our organizations are teaming up to pioneer a new approach to tackle the challenge. Last month, the Richard M. Fairbanks Foundation announced a $376,000 grant to support Ascend Indiana in developing a formally recognized program for clinical social work that will focus on the treatment of substance-use disorder.
What will be the result of this investment? An entirely new model to address the workforce gap in an area of pressing need.
The new program will be piloted in Indianapolis and, over time, scaled across the state. And it will have a significant impact. As an initial outcome, the program aims to train 50 new treatment specialists, serving an additional 3,000 patients annually. As other health providers embrace and scale the model, those numbers will grow significantly.
Ascend will partner with Community Health Network and a higher education provider on the effort, which will be built from scratch. Developing this system will require approaching training for addiction treatment specialists differently in a few ways.
First, it's critical to use a curriculum that's adaptive and flexible enough to meet employers' workforce needs. Ascend will evaluate the curricula for training addiction specialists among current higher education institutions. If no existing program meets the need, Ascend will collaborate with a higher education provider to pilot a new curricular approach.
Second, it will take concerted effort to attract new talent into a field that's long faced a workforce shortage. Employees at Community Health Network are promising candidates for the addiction treatment initiative, but Ascend will also reach beyond that pool to recruit recent college graduates or practitioners in fields like behavioral sciences to take advantage of the opportunity.
Finally, driving awareness will be important to achieve the goal of scaling the program statewide. Ascend will promote research findings related to the program's development to help inspire the launch of similar initiatives in communities from Evansville to South Bend. The hope is that many Indiana health providers will embrace this as a ready-made model.
Solving Indiana's workforce skills challenge requires strategic vision and tireless execution. In the case of trained addiction specialists, addressing the gap could not be more pressing.
Doing so will mark a critical step in fueling Indiana's fight against the opioid epidemic—and ensuring that the thousands of Hoosiers suffering from addiction get the help they need.•
Fiddian-Green is president and CEO of the Richard M. Fairbanks Foundation. Kloth is president and CEO of Ascend Indiana.
Please enable JavaScript to view this content.