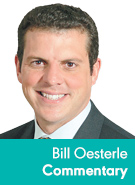 The Indianapolis Business Journal recently reported that Indiana's annual population growth was at its lowest point in three decades—0.31 percent, or about 20,000 net new Hoosiers. Unfortunately, estimates from Indiana University have this downward trend continuing for decades.
Against this population headwind, it is difficult to imagine what state and local governments in Indiana can do to meaningfully accelerate economic growth. Traditional tools just won't cut it. Simply put, we need more people.
I'll grant you that a vibrant business climate is part of the complicated chemistry of population growth, but it is certainly not the only factor. Growth standouts—which Indiana must become—become so for a wide variety of poorly understood factors. The cause-and-effect relationship between population and business environment is murky. Further, traditional economic development initiatives are competitive, commoditized and expensive. As my mentor and constant provocateur, Mark Lubbers, delivered in a speech nearly 30 years ago: "Indiana, get radical or die."
Let me take a go at radical. Why don't we start working on the population problem directly instead of indirectly? Talented population math is simple: Talented Population Growth (TPG) = Population Created (PC) minus Talented Population Exported (TPE) + Talented Population Imported (TPI). For the sake of argument, let me assume PC is fixed. Birth rates are hard to move, and Indiana already ranks 18th in college students produced. Instead, I will focus on the fact that, despite being 18th in production, we are 35th in the percent of the population holding one of those degrees. I think Indiana should focus on Talented Population Exported (TPE) and Talented Population Imported (TPI).
In 1989, when I was 24 and on my way to Harvard Business School, my boss, Mitch Daniels, invited me to breakfast. There, Mitch congratulated me on my admission and the world-opening opportunity I had been given.
Then he glared across the table and said, "You need to come back to Indiana." It was not a suggestion. It was a command, full of obligation and import. It made a profound impact on me. After school, I deliberately moved back to Indiana. Later, after being transferred to Ohio and starting Angie's List, I moved back again and brought a high-growth company with me.
Obviously, Mitch's command wasn't the only reason I kept coming back. I had family here. I had friends and contacts. I liked the culture and I was proud of my state. But Mitch put purpose behind these facts.
If his technique worked on me and probably others, why can't it be done at scale? No one had ever told me to make a life in Indiana before that breakfast. Must that event be so random?
Indiana should differentiate itself by becoming the most aggressive talent recruitment-and-retention state in America. Let's start by declaring it: "Indiana recruits better than anyone in the country." Think Alabama football, but on a bigger scale.
Like all successful sales and marketing efforts, we should use targeting and big data. Let's identify and map talented groups of people Indiana would like to retain or recapture or recruit. These could be groups of high school students, college students, young professionals, scholars, scientists, engineers, whatever. Once you have them identified, you can track them.
You can look for signals that indicate their willingness to return and their abilities. Then you can score them and focus increasing efforts on them over time. The state or cities can start small, experiment and then scale. The state could provide modest infrastructure and data.
Isn't human capital our most valuable natural resource?
Let's make this our culture.•
Oesterle is executive chairman of OurHealth and co-founder and former CEO of Angie's List.
Please enable JavaScript to view this content.