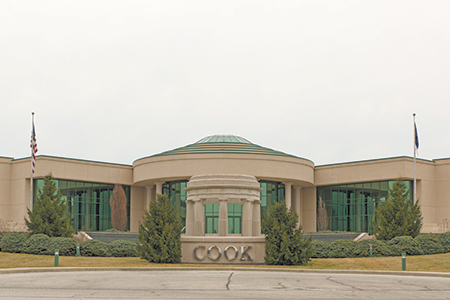 The lawsuits continue to pile up, dozens a month, against Cook Group from patients who say the company's blood-clot filters malfunctioned, sometimes piercing organs and blood vessels, requiring surgeons to remove them.
Now, the first bellwether case is headed for trial this fall in Indianapolis, setting the stage for about 2,000 such lawsuits that have piled up against Bloomington-based Cook.
Bellwether cases are small groups of lawsuits that are tried first and serve as a litmus test for how the remaining cases might be tried and decided.
So far, Cook has refused to settle any of the cases, saying it will "vigorously defend these products because we believe in their ability to save lives."
Still, a federal magistrate has scheduled three settlement conferences starting July 26; last year, the two sides failed to reach a settlement following similar discussions. The lawsuits have been consolidated in U.S. District Court in Indianapolis.
The magistrate, Tim A. Baker, ordered each side to file a confidential settlement statement, giving a candid assessment of strengths and weaknesses of the litigation and a proposed settlement framework, "to determine whether a settlement can be achieved."
"Unrealistic assessments, including posturing, will be of no value and should be avoided," Baker wrote in his order.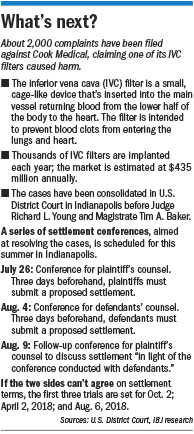 Cook declined to say what it might include in its settlement statement. A company spokeswoman said President Pete Yonkman was unavailable for an interview.
"Cook has no present plans to resolve the claims," the spokeswoman, Marsha Lovejoy, wrote in an email to IBJ.
The company makes more than 16,000 products, from stents to catheter balloons. It has annual sales of $2 billion and a global workforce of 12,000.
Cook's blood-clot filters are tiny, cage-like devices inserted into blood vessels to prevent clots from reaching the lungs, which could lead to pulmonary embolism, or blockage of an artery in the lungs.
Nationally, 100,000 people die each year from pulmonary embolism, according to the Centers for Disease Control and Prevention.
About 200,000 blood-clot filters—also known as inferior vena cava filters, or IVC filters, for short—are implanted nationwide each year. The market for IVC filters is $435 million, according to market research firm Axis Research Mind.
Cook, which is privately owned and rarely discloses sales information, did not disclose how many of its blood-clot filters are implanted each year. It said in a statement that "only a very small percentage of our IVC filters placed worldwide are subject to litigation."
About 1,930 patients have filed lawsuits against Cook for its IVC filters, according to a May 15 report by the U.S. Judicial Panel on Multidistrict Litigation. Dozens of additional lawsuits have been filed since then, according to U.S. District Court in Indianapolis, pushing the total to about 2,000.
Some plaintiffs' attorneys said they felt optimistic they would prevail, either in winning a jury award or getting a settlement for their clients, based on what they say is the harm the filters have caused.
"These are pretty simple cases to understand," said Randy Roberts, a personal-injury lawyer from Tyler, Texas, east of Dallas, who is representing several patients. "I don't think a jury will have much trouble following the facts."
In recent years, several other medical-device makers have settled large numbers of lawsuits. In 2014, Biomet Inc. in Warsaw agreed to settle for more than $100 million a group of cases involving the company's implanted hip replacement devices. More than 950 patients around the nation claimed they were harmed by the metal-on-metal ball-and-socket parts.
Earlier this decade, more than 60,000 patients sued makers of transvaginal mesh, including Johnson & Johnson, C.R. Bard, Coloplast and American Medical Systems.
Whether the plaintiffs have a strong case against Cook will not be known until the bellwether cases go to trial.
The first case, set to begin Oct. 2, involves a Florida woman who had a temporary filter known as the Celect Cava implanted in 2010. The filter had four anchoring struts and eight secondary struts to help trap clots.
Four months later, the woman went back to her doctor to have the filter removed. According to her complaint, all attempts to remove the filter were unsuccessful. The woman subsequently developed gastrointestinal symptoms, fatigue, diarrhea, vomiting and abdominal pain. She later underwent an endoscopy procedure, where it was determined the filter had pierced a large blood vessel and small intestine. She was transferred to another hospital where the filter was removed.
The complaint said the filter was unable to withstand the normal anatomical and physiological demands, "causing the filter to tilt, migrate, perforate [and] fracture."
The complaint also alleges Cook knew the filter's design was defective, but the complaint did not appear to offer any evidence to support that allegation. The woman's attorney, Joseph Johnson of West Palm Beach, Florida, did not return several calls from IBJ.
The second bellwether case, set for trial April 2, involves a Chicago-area patient who claims he was injured after being implanted with a Cook Gunther-Tulip filter. The plaintiff had a history of pulmonary embolisms, which caused him to be admitted to a hospital in 2011. The next day, doctors implanted the filter.
Soon afterward, the complaint said, the patient "began experiencing extreme chest pain and shortness of breath." Doctors later told him the filter had perforated his vena cava blood vessel "and could not be removed due to such a high risk of death during the procedure."
The third bellwether case, set for trial in August 2018, involves a Georgia woman who had a Cook Celect Cava filter inserted in 2011, before spinal-fusion surgery. Several months after the filter was inserted, the woman discovered a "painful region" on the inside of her right thigh, which grew to a 5-inch area.
One day, she pressed on the protrusion that had developed on her thigh, and a piece of metal wire about 1-1/2 inches long popped out, which was later determined to be one of the struts of the filter.
X-rays revealed that a second strut had broken off and migrated near her spine. She underwent an operation, "but after several unsuccessful attempts to remove the filter during this surgery, the procedure was halted," the complaint said.
Cook said in a statement to IBJ that "filter implantation is a serious procedure intended to help prevent life-threatening pulmonary embolisms."
The company added: "Physicians choose to use IVC filters based on each patient's need, knowing that every patient's situation is different and individual factors and risks must be considered when deciding on treatment options."•
Please enable JavaScript to view this content.