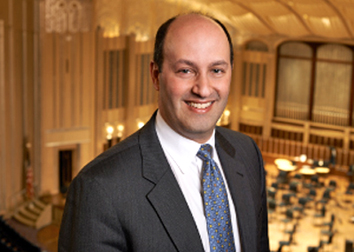 Indianapolis Symphony Orchestra CEO Gary Ginstling is leaving the ISO to become executive director of the National Symphony Orchestra, the NSO announced Monday.
Ginstling joined the ISO in March 2013, replacing former CEO Simon Crookall and interim CEO Jacquelyn Groth.
The ISO did not immediately respond to messages about Ginstling's departure.
"I am delighted to welcome Gary Ginstling, a creative and visionary leader, as executive director of the National Center," NSO Board Chairwoman Jeanne Ruesch said written comments. "Gary's experience as both an administrator and a musician is exceptional and creates new opportunities for engagement at the community, national and international levels."
Ginstling's arrival at the NSO corresponds with the hiring of a new music director, Gianandrea Noseda, and the recent appointment of Ben Folds as artistic director.
He succeeds Rita Shapiro, who stepped down in December after 15 years in the job.
The NSO said Ginstling, his wife and two children will move to the Washington, D.C., area in the coming months.
Ginstling is credited with helping increase ISO sales and broadening its appeal beyond its core audience.
The ISO has reported a balanced budget in three out of the last four years, while experiencing record ticket sales, as well as increases in fundraising and subscription revenue.
Before joining the ISO, Ginstling spent five years as general manager of the Cleveland Orchestra. Before that, he was director of communications and external affairs for the San Francisco Symphony, and executive director for the Berkeley Symphony Orchestra.
A clarinetist and New Jersey native, Ginstling earned a MBA at the Anderson School of Business at UCLA. He also has a master's of music degree from the Juilliard School and a Bachelor of Arts, with magna cum laude honors, from Yale University.
His musical experience includes performing with the San Francisco Symphony, the Los Angeles Philharmonic, and the New West Symphony in Ventura County, Calif., where he was principal clarinetist for 12 seasons.
The NSO was founded in 1931. In 1986, it became an artistic affiliate of the John F. Kennedy Center for the Performing Arts, where it has performed each year since the center opened in 1971.
Please enable JavaScript to view this content.