When Karen Cernock worked in the hotel industry, she learned the 10-5 rule. When a customer is 10 feet away, make eye contact and smile. When the customer is 5 feet away, say hello and offer to help.

There were other rules, too.

"You didn't walk through a hallway looking at your cell phone," she said. "You were paying attention to the customer who was trying to figure out where to go. You would walk over to help a couple staring into space, trying to figure out which elevator to take."

These days, after more than a decade working as a manager for Hyatt Regency, Drury Inn & Suites and other hotel companies, Cernock has a new assignment: Bring those hospitality skills to Indiana University Health, the state's largest hospital system.



As IU Health's experience design capability manager, she advises workers on everything from bed linens and cleaning services to room-service meals and the entire "arrival experience." Her mission is to create a common hospitality brand across all 14 IU Health hospitals, so the patient experience is similar across the system.

It's part of IU Health's new push to be more consistent, and not leave the patient guessing where to go or what's going on.

"Consumerism has come into health care," said Cernock, 39, who started her new job last summer. "People have more choices where they can get care. We want to make the patient experience better."

Around Indiana, hospitals are doubling down on the lofty goal of patient satisfaction. Some, like IU Health, are hiring managers to oversee various aspects of the patient experience, from registration to discharge.

Others are breaking down boundaries between departments to make sure all workers learn the drill, without needing to reach outside to the hotel industry. And at some hospitals, top executives are leading new-employee orientation sessions, with heavy emphasis on making patients and their families feel welcome and helped, with just as much emphasis on compassion as medical care.

There are good business reasons for the new emphasis.

In 2009, the federal Medicare program began requiring hospitals to report patient satisfaction scores so it could publish them on the website hospitalcompare.hhs.gov. The website allows visitors to compare up to three hospitals at a time over a broad range of categories—including procedure outcomes (from cataract surgery to pregnancy and delivery), complications and infections, readmissions and deaths by disease, use of medical imaging (to show possible overuse), and surveys of patient experience (such as the percentage of patients who reported their nurse always communicated well).

And increasingly, hospital reimbursements are tied to patient satisfaction. Since 2012, Medicare has been using patient-satisfaction scores to determine nearly one-third of the performance-based pay hospitals receive. Initially, only 1 percent of Medicare payments were performance-based, but that increased to 2 percent this year. Private health insurers also are following suit.

Another reason for the consumer push: Patients have more of a choice about where they get treatment, and health care systems are competing fiercely to fill beds, get referrals, and otherwise keep business humming.

"All health care organizations need to compete for that business," said Lori Thorp, associate vice president at Eskenazi Health. "They really need to set themselves apart from their competitors."

At Eskenazi, the drive to be different comes in a few forms. One big selling point is the hospital's emphasis on food and nutrition. Last year, Eskenazi was the only hospital in Indiana (and one of 24 nationally) to win praise in a report by the Physicians Committee for Responsible Medicine for offering fruits, vegetables, whole grains, cholesterol-free entrees and soy milk.

Eskenazi also reported a 37 percent decrease in the amount of sodium ingested by visitors and staff at its retail food outlets and vending after a three-year effort. It did so by discouraging soda consumption and placing free water stations in retail areas; encouraging the purchase of fresh fruits and vegetables; and putting out healthier snacks in smaller portions near the cash registers.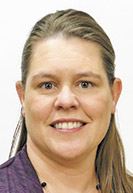 Thorp
The hospital also operates a sky farm on the roof that invites patients and staff to help grow fruits and vegetables that end up on patients' trays and in the cafeteria.

"Food and nutrition is one of the biggest areas for the patient experience," Thorp said. "We're always re-evaluating menus, offering choices, improving access to healthy food."

Compassionate care

At Johnson Memorial Hospital in Franklin, a top executive delivers the point of patient compassion in a poignant way.

Chief Operating Officer Steve Wohlford attends every new-employee orientation, and leads a session that stresses that patients and families need more than clinical care; they need compassion and comfort. He tells the story about how his first wife was feeling lethargic and visited a doctor, thinking she had the flu. Tests, however, showed she had acute leukemia, an aggressive form of the disease that quickly shut down her organs and took her life within 48 hours of being diagnosed.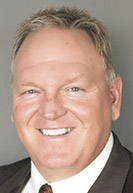 Wohlford
After getting the news from doctors that his wife was dying and there was no hope for recovery, Wohlford found himself sitting in a waiting room, alone and in shock. A janitor passing by saw him and stopped to offer comfort.

"She put her arm around me, gave me a bottle of water, and said, 'Sir, I don't know your story, but I see you're having a difficult time right now,'" Wohlford said.

She told me, 'I just want you to know I'm thinking of you and praying for you.' I remember that moment to this day, of her taking time to help me. We all need to be doing the little things that make a big difference to patients. That's how we improve the patient experience."

At Hendricks Regional Health, the drive to increase patient satisfaction focuses more on empathy than on linens or food service, said Julia Smalley, who was named to the newly created position of director of patient experience about 18 months ago.

"It's not the hospitality stuff, like giving all our patients a coffee pot," she said. "It's our values, respecting one another and engaging patients in their treatment. These are people that come in with unique needs and different emotions and you really have to focus on the individual."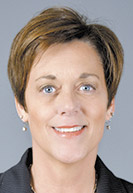 Smalley
Some of the larger health systems agree. St. Vincent said in a statement that it doesn't target employees with a hotel or hospitality background, "but we do strive to hire employees with exceptional customer service skills."

Community Health Network established an Office of Patient Experience three years ago with the goal of delivering "an exceptional experience with every life we touch." The network, which runs seven hospitals in central Indiana, didn't hire a hotel manager, but decided to focus in-house on helping patients feel more comfortable.

"There are many valuable learnings from the hospitality industry, but [our] primary focus is to break down boundaries within and across care settings and technologies to create the optimal human experience," Tom Malasto, Community's senior vice president and chief patient experience officer, said in a statement.

Quest for consistency

IU Health, however, decided to move in a different direction. It hired Cernock to introduce consistency into a system that last year cared for more than 1 million people, with 120,000 admissions, 500,000 emergency visits, and 2,550 beds.

Cernock's long hospitality resume includes stints as general manager of Drury Inn & Suites in Indianapolis; area manager of luxury brands for Simon Property Group's The Shops at Riverside in Hackensack, New Jersey; manager of the Crowne Plaza London Kensington in the United Kingdom; and a manager or executive at Hyatt hotels in Chicago; Washington, D.C.; and Columbus, Ohio.

The health care and hospitality industries both need to please customers in a competitive landscape. Both use plenty of beds, operate big kitchens and sometimes offer white-glove amenities, such as valet parking.

"The only difference between a hospital and hotel is, at a hotel, most people want to be there," Cernock said. "When you come to a hospital, you may have something wrong with you. We're trying to make the experience better."

Already, she and her team have taken steps to make some things more consistent. They tightened up the uniform policy to make the clothing more recognizable by job role: red scrubs tops and black scrubs pants for inpatient nurses; teal top and black pants for inpatient support specialists, secretaries and technicians; navy blue tops and pants for outpatient staff and physician staff members; and light-blue polo shirts or buttoned shirts for front-office workers.

The team developed an admissions kit that all inpatients receive, similar to a welcome folder in a hotel. Among other things, the kit contains pictures of various employee uniforms, to help the patient understand who is in the room and why.

And to help explain the program, Cernock and her boss, Jennifer Baron, executive director of experience design, have just begun a months-long road show to IU Health's hospitals to meet with employees and explain the strategy.

A patient's experience, of course, involves a wide range of factors, from noise levels and food quality to staff interactions and medical issues.

The American Hospital Association publishes a list of tips to help patients and keep distractions and surprises to a minimum. Tips include introducing yourself to the patient and explaining why you're there and what's about to happen, as well as such mundane matters as furnishing rooms with nonporous chairs to avoid stains.

Cernock said part of her job is to examine overlooked functions that can make a big difference to a patient and family, such as parking, the food court, patient-transportation services and volunteer services.

"It's important to focus on those unsung opportunities where we can maybe elevate the experience," she said. "We need to consistently deliver. The patient deserves it."•