When Donna Oklak helped launch Impact 100 of Greater Indianapolis more than 10 years ago, she believed the giving circle would be so popular that it would grow by 100 members every year.

A decade later and at 222 members, the not-for-profit boasts only a fraction of the 1,200 members it would list if Oklak's prediction had been accurate. But leaders say they're not disappointed.

Impact has more members this year than ever before, it's up to nearly 700 alumni members, and it's created a ripple effect of philanthropic support through $1.76 million that has been awarded since 2006.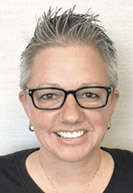 Hartman
"We're in a place where we have the greatest opportunity ever for continued growth," said Kelly Hartman, president and CEO of Insights Consulting and an Impact 100 board member. "We just have a bigger voice, and I think we're going to see more girls next year."

The organization brings together a group of at least 100 women who each donate $1,000 annually and combine the funds to award a $100,000 grant to a local not-for-profit. The women vet the applications and narrow the field to five finalists, who give short presentations at an annual dinner. After the proposals are heard, the women vote and the winner walks away with a check for $100,000, with smaller awards for other groups as well.

Reaching the 100-member threshold has consistently been an easy accomplishment, but hitting 150 or more has been difficult.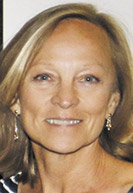 Thomas
Not every member stays involved every year, as other time and financial commitments take precedence, and some members are frustrated when the not-for-profit they support doesn't go home with the grand prize. About 20 members have been involved since the beginning.

"At first … when women dropped out we were like, 'No!' You know, very disappointed, but then you realize people come and go," said Beth Thomas, Impact 100's board president. "They ebb and flow, but we try to keep them in the mix."

Debra Mesch, director of the Women's Philanthropy Institute at the Indiana University Lilly Family School of Philanthropy, said that, even with that ebb and flow, she expects the giving circle concept to be sustainable in the long run because the group appeals to women's giving preferences.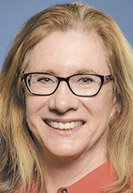 Mesch
"With women, we find that they give for more altruistic, empathic reasons," Mesch said. "They want to make an impact on those that they serve."

She said there are a variety of giving circle models and sizes—from small neighborhood groups deciding how they can help a community to large organizations giving more than $1 million in grants—and most are for women only.

"The bottom line is, in general, women do want to make an impact," Mesch said. "I think you're going to see this [model] increasing even more."

During Impact 100's first two years, growth occurred at roughly the projected rate. Total membership went from 152 in 2006 to 208 in 2007, which allowed the giving circle to award two $102,500 grants.

In 2008, another two major grants were given away, each worth $104,000.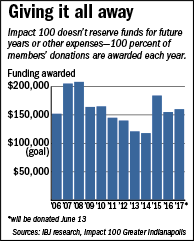 But since then, the group hasn't been able to collect $200,000 or more, and in 2009, the women changed the way the money was awarded. That year, the group had $164,000 at its disposal and, instead of awarding it all to one not-for-profit, gave $100,000 to the winner and $16,000 to each of the other four finalists. The unrestricted, residual grants have continued ever since.

"That is a lot of unrestricted cash," Thomas said. Not-for-profits "can use it to pay salaries. They can use it to buy toilet paper."

While membership has continued to increase, the amount of grant money hasn't kept pace, as some women have opted for shared memberships, which allow them to pay only a portion of the $1,000 fee.

The program allows women to join in groups of two to four and split the cost. The women participate like all the other members, but they must vote as a block at the annual meeting.

"The cool thing about the shared membership is, there are a lot of young philanthropists who are impacted by not-for-profits that Impact has supported who—it doesn't matter how much they want to give $1,000—they just don't have it," said Hartman, co-founder of not-for-profit Outside the Box. "They're young in their career."

Impact has 30 shared memberships this year—the highest number yet—and that category is expected to grow.

"It actually is a nice sustainability move," Hartman said.

That's important because, if Impact is unable to find a combination of 100 women or shared memberships one year to fully fund a grant, there is no backup funding. The organization doesn't have—and doesn't expect to start—an endowment or reserve fund.

"When we're not viable, when we no longer have the volunteers and members, then it was a great thing," Oklak said. "But there's no promise that it's going to last forever."

The original 'Shark Tank'

At this year's event, scheduled for June 13, BigCar Collaborative, DirectEmployers Institute, Marian University, Volunteers of America and Children's Bureau will face off. The winner will receive $100,000, and the other finalists will go home with $15,000.

The "Shark Tank"-style competition, which started years before the reality TV show premiered, gives the five not-for-profits seven minutes to persuade the Impact members to vote for their project.

To even become a finalist, an organization first has to submit a letter of intent, then be invited to apply, complete the application, and host members on a site visit.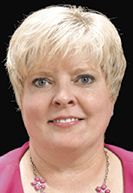 Eagan
Impact 100 members read the proposals, look at budgets, review tax returns and research the groups' board members.

"We look at a lot of things. It's not just, 'Oh, I love this idea,'" Thomas said. "It's not a bunch of women that get giggly about things."

During the final presentations, no visual aids, no props and no clients are allowed. It's just one or two leaders from the not-for-profit describing their passion. The order of the presentations is decided at random.

"Those presentations can definitely sway the vote," said Tonja Eagan, CEO of Social Health Association of Indiana, which won the grant in 2014. "It does boil down to that."

After all five are finished, the members vote and a committee of non-members tallies the results. Only the board president knows the outcome before the announcement later that night.

The event has become so popular that people have gone as far as rearranging international travel plans to attend.

"There's nothing like it in this town," Oklak said. "So, we have that going for us."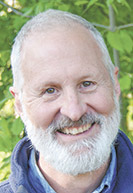 Shepley
When Dan Shepley, executive director of Jameson Camp Inc., presented in 2012, he had the last slot.

"You get to sit and listen to the other finalists present and you think, 'Well, all of those sound great and hopefully we stand a chance,'" Shepley said. "You're always nervous about making a presentation like that, especially with $100,000 on the line."

Shepley pitched a proposal to expand his youth-development organization's environmental education program and won.

"They had never funded environmental education at that point, which I was hoping would give us a little bit of an edge," he said. "We were pleasantly surprised."

At the time, the outdoor education program had only a part-time director and served about 1,000 kids. That position is now full time, and the program reached 5,000 kids within four years.

"It's been phenomenal the kind of momentum it created for us," Shepley said. "We had proposed we were going to double the number of kids, but we went way beyond that."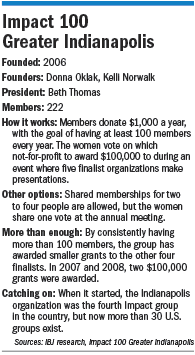 Ongoing support

Thomas said most winners share similar stories. "They're almost all at a point where, when our money got to them, it took them up to the next staircase. It made an impact," Thomas said. "I like to tell people it's because they came to us with their big idea."

Hartman applied for the grant for Outside the Box in 2011 before becoming an Impact 100 member. The agency served 60 developmentally disabled people that year, but after winning the $100,000, it increased to 350 individuals and has a waitlist of about 60.

Hartman used the funds to renovate the organization's 14,000-square-foot facility.

"That's huge growth, and we wouldn't have been able to do that without improving the building," she said. "A lot of people won't fund capital projects."

And the support didn't stop there. Three board members for Outside the Box are also Impact members, and Hartman became an Impact member the following year.

"Even though Impact happened for us in 2011, one of the cool things we talk about is the ripple effect. It's not just a one-and-done," Hartman said. "Here we are six years later, and we're still benefiting as an organization from what Impact did."

Eagan went the opposite route: She was an Impact member and then became CEO of Social Health Association in the midst of the 2014 competition and had to recuse herself from voting.

"The amount of preparation that a nonprofit agency does, I now have an appreciation for," she said. "To prepare for that dinner, our agency spent at least 20 hours."

The organization used the funds it won to launch its Step Up for Kindness bullying prevention program in Marion County schools. In the first year, the program reached 10,000 kids, and now it's expanding statewide.

She described the dinner that year as "nerve-racking."

"It's a roller-coaster ride," Eagan said. "We weren't a very well-known agency, and we were up against a lot of other great programs."•