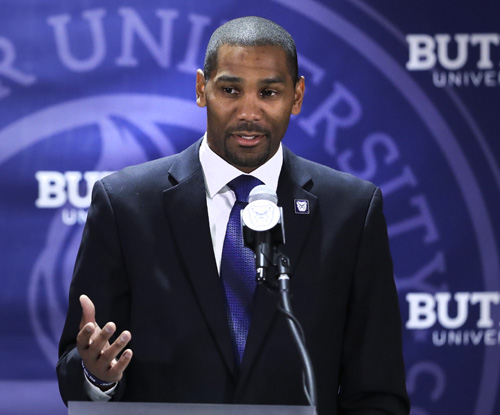 LaVall Jordan sees the evidence of Butler University's basketball success all around.
There are two Final Four banners hanging at one end of the renovated Hinkle Fieldhouse. There is a Big East Conference banner on the opposite end, and he's certainly aware the Bulldogs are no longer America's favorite underdog. They are a regular NCAA tournament participant.
But Jordan and others have worked too long and too hard building this program to let it down now.
So the Bulldogs' new head coach made one promise to players and fans Wednesday: The old-school philosophy that turned the Bulldogs from also-rans into consistent winners will remain intact during his tenure.
"Certainly it's a different place than when I played and it's a different era than when I played," Jordan said after his introductory news conference. "The expectations here are great and that means you're doing well, and we intend to keep doing well. It's about values and talent and culture and we have those things here."
Jordan became the school's fourth head coach since 2013 when he agreed to a six-year deal Monday night. Financial terms have not been released.
By hiring the 38-year-old Michigan native, Butler broke with its long-standing tradition of promoting in-house assistants. But the Bulldogs got the next best thing.
Few understand Butler's deeply rooted principles better than their former star guard and one-time assistant, who played a key role in the Bulldogs' rise to prominence.
Barry Collier, now the school's athletic director, recruited Jordan out of high school in 1997 and coached him for three seasons. Jordan finished his college career playing for Coach Thad Matta.
In addition to becoming a two-time all-conference guard and the 2001 conference tourney MVP, Jordan played in two NCAA tournaments and helped lead the Bulldogs to a postseason win in 2001—their first tourney victory in 39 years.
After spending two years playing in Europe and the NBA D-League, Jordan returned to campus in 2003-04 as Butler's director of basketball operations. He was promoted to assistant the following season, where he worked with Coach Brad Stevens, and was still around when the Bulldogs reached the Sweet 16 in 2007.
He then followed Coach Todd Lickliter to Iowa before landing on John Beilein's staff at Michigan in 2010-11.
Along the way, Jordan learned about the business side of big-time college basketball.
He lost his job after three straight losing seasons as an assistant in Iowa City and emerged as a head coaching candidate after Michigan won two Big Ten titles and finished as the national runner-up in 2013.
But Jordan never lost sight of what he really wanted: To be Butler's head coach.
"There is a ton of emotion throughout my spirit with this move, coming back to Butler as the head coach of the men's basketball program" Jordan said, smiling like a child on Christmas morning. "Leading Butler basketball is absolutely a dream come true for me. And to have Coach Collier and President Jim Danko believe in me is truly an honor."
Jordan, like many of his Butler predecessors, doesn't have a lot of experience calling shots. He led the University of Wisconsin–Milwaukee last season to an 11-24 mark and a Horizon League Tournament runner-up finish last season, his first as a head coach.
But the Bulldogs have generally made the right call when it comes to coaches.
Before taking over at Butler, Collier, Matta, Lickliter, Stevens and Brandon Miller had no head coaching experience at the college level. Chris Holtmann, who took the Ohio State job last week after leading the Bulldogs to the NCAA tournament in all three of his seasons as head coach, was Gardner-Webb's head coach for three seasons before he joined Miller's staff in 2013-14.
Those who have watched Jordan move up the coaching ladder believe the Bulldogs have found yet another potential coaching star.
"I know it's going to happen because he not only knows the game, he knows to teach the game. He can analyze the game, and he's hungry," Lickliter said. "He's great now and he's going to grow and get better every day, and I think that's contagious. I think that's why our players gravitated to him."
Butler's current players said they can already sense the passion and devotion in Jordan's eyes and words.
And they figure the best part of this coaching change is that nothing will really change because if Jordan's commitment to the essential principles he used to lay the foundation for all of those subsequent achievements.
"He's a Butler alum, he played here, he coached here, so you know he's from within the family," forward Kelan Martin said. "I think it will take some time to adjust but when everything falls into place, I think it will be just fine."
Please enable JavaScript to view this content.