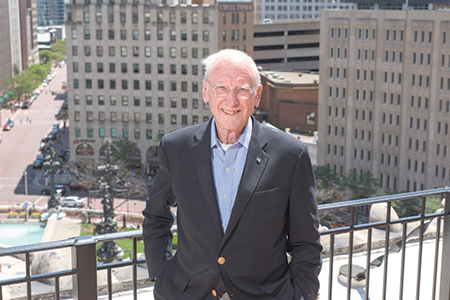 Andre Lacy, 77, chairman and retired CEO of the family's holding company, LDI Ltd. LLC, helped transform what started in 1912 as U.S. Corrugated Fibre Box Co. into one of Indiana's top 10 privately held companies. The firm's portfolio now includes seven companies, including UltiMed, a diabetes device firm, and Motorsport Aftermarket Group, which makes motorcycle parts. Lacy's son, J.A. Lacy, is at the helm of LDI now, but the elder Lacy's vision and influence are still omnipresent.
What drove your decision to make the largest donation in Butler University's history—$25 million—to support its business school?
I have been involved with Butler for more than a decade. It's always been interesting to Julia and myself that it was focused on closely held companies and how that business school can end up differentiating itself from the Kelleys or the Krannerts or the Notre Dames and the Harvards. Closely held enterprises in the U.S. are really the GDP driver of growth in our nation, and really, the employment growth in our nation. That's kindred in terms of my experiences and my leadership.
What is the most important thing you've passed onto the Butler students you mentor?
The freshness and excitement of bright young people is so attractive and I get a lot out of that. I can offer them an opportunity to challenge who I am and what I am and why I am and what does that do in terms of creating a business that is successful. Students read things in textbooks but it's another thing to hear someone that really has experience.
What lessons have you learned in the leadership of your business that you feel others could benefit from?
Ethics. It appalls me, the Volkswagens or the Enrons. And in my opinion, the boards of directors have a material responsibility and accountability for those bad decisions. That makes my skin itch. Also, I believe leadership should be balanced. By that I mean: family, business and community. When your leader of your enterprise has that kind of balance, they're better judges of just everything around them. I think we do live by example that balance. We have been good citizens. We've been good to our family and we also consider the community.
What are some economic drivers affecting elements of your portfolio?
There's a lot of growth in the diabetes business. Diabetes is becoming increasingly a health concern. In Mexico, it's the leading reason for death. … In the after-market motorcycle area, what we are concerned with at this point is with the advent of young people using their thumbs on a keyboard rather than riding or getting involved in motorcycle riding. You have people like myself; I don't give up on riding. You have a lot of other people who have ridden for a large part of their life and they get uneasy about riding on two wheels, so they give up their motorcycle.
What do you get out of cycling?
You almost never see a motorcycle parked in the psychiatrist's office. It itself is a therapy of release and freedom and relief from anxieties and frustrations. Somebody asked me within the last six months, how many miles have I ridden? I started adding it up. I've ridden more than 200,000 miles. I always have some on the docket. In August, I'm going to ride Iceland. I'll do Ireland later on in the fall. And in November, I have a ride scheduled that leaves from Victoria Falls and goes through Botswana and into Nairobi.•
Please enable JavaScript to view this content.