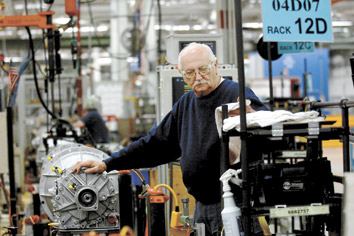 Indiana's unemployment rate made a a big drop in May, falling to 3.2 percent, the state's Department of Workforce Development said Friday.
The rate, which was at 3.6 percent in April, isn't far from the state's all-time low of 2.9 percent, set in October 2000. The national rate was 4.3 percent in May.
Indiana's labor force—which is composed of both employed and unemployed-but-willing-to-work residents—decreased by 2,062 workers from April to May, to more than 3.33 million, with an 8,946 increase in employment and an 11,008 decrease in unemployment, the state said.
Indiana's labor-force participation rate—the percentage of the state's population that is either employed or actively seeking work—fell one-tenth of a point, to 64.5 percent, in May. It remains well ahead of the national rate of 62.7 percent.
The state saw a gain of 2,500 private-sector jobs during the month. Private-sector employment has grown by more than 36,100 over the past year.
Job gains were seen in the sectors of Private Educational & Health Services (3,100) and Construction (2,100). Losses were seen in the Transportation, Trade and Utilities (-4,100) and the Manufacturing (-2,500) sectors.
Indiana's unemployment rate in April was lower than the rate in neighboring states Michigan (4.2 percent), Illinois (4.6 percent), Ohio (4.9 percent) and Kentucky (5 percent).
Please enable JavaScript to view this content.